Project Overview
The Roma Integration 2020 project,implemented by the Regional Cooperation Council (RCC) with the financial support of the European Union and the Open Society Foundations, aims to contribute to reducing the socio-economic gap between the Roma and non-Roma population in the Western Balkans and Turkey and to strengthen the institutional obligations of governments to incorporate and deliver specific Roma integration goals in mainstream policy developments.
Roma continuously face social exclusion, discrimination, segregation and marginalization. While the Decade of Roma Inclusion 2005-2015 and the EU accession process established baseline policy processes, institutional arrangements and dialogue on Roma issues, impact remains limited. Reason is found in the isolation of the issues of Roma from mainstream public policies, budgeting, services and administration, which is the challenge Roma Integration 2020 project is designed to tackle.
Thus, Roma Integration 2020 strives to contribute to reduced socio-economic gap and strengthened institutional obligations, by providing technical assistance to participating governments to integrate Roma specific issues into:
mainstream socio-economic policies; and
national budget planning, spending and control.
---
Roma Integration 2020 has three levels of engagement, and thus three levels of expected results and activities:
1. Institutional Support
Accelerated implementation, improved cross-sector coordination, built capacities and exchanged practices on Roma integration through:
1.1. Institutional Structure: National Roma Contact Points (NRCP) & inter-disciplinary bodies;
1.2. Strengthening Capacity: Country-specific consultative meetings and capacity building;
1.3. Recommending Policies: Country-specific policy briefs and advice;
1.4. National Platforms (public dialogue forums) on progress and planning with civil society;
1.5. Regional Workshops for joint capacity building and exchange of experience.
2. Regional Cooperation
Roma policies fit the regional context, regional standards are set, and Roma issues are mainstreamed in overall regional cooperation through:
2.1. High Level meetings on joint policy setting;
2.2. Task Force meetings steering the project and operational policy setting;
2.3. Streamlining in the ongoing RCC work and meetings;
2.4. Visibility: bulletin, website, monography.
3. EU & International Cooperation
Proper monitoring system is established and EU practices are mirrored through:
3.1. Reporting: Annual reporting on implementation and impact;
3.2. EU & International level processes on Roma issues (participation and exchange of information);
3.3. EU Framework on National Roma Integration Strategies and EU accession process.
Roma Integration 2020 beneficiaries are Albania, Bosnia and Herzegovina, The Former Yugoslav Republic of Macedonia, Kosovo*, Montenegro, Serbia, and Turkey.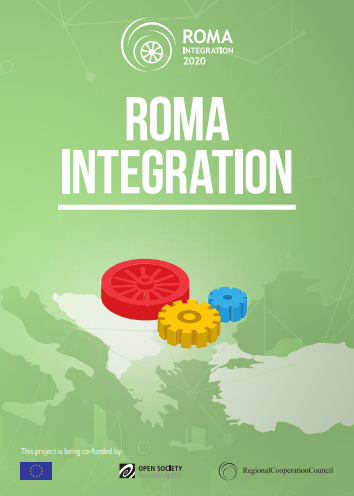 Roma Integration 2020 BROCHURE
---
* This designation is without prejudice to positions on status, and is in line with UNSCR 1244/1999 and the ICJ Opinion on the Kosovo declaration of independence.