RCC/OBCT DISINFORMATION CONFERENCE: "Spread of disinformation during the pandemic and its impact on the Western Balkans"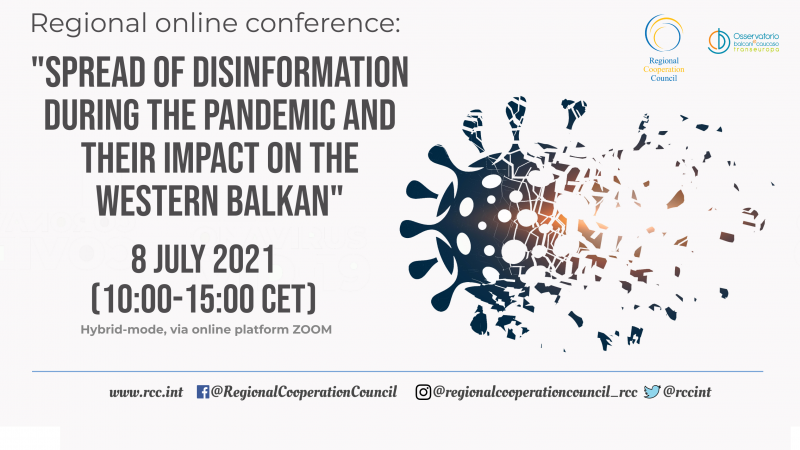 After the successful launch of the first-ever regional Securimeter - Security Public Opinion Survey, Regional Cooperation Council (RCC) in cooperation with the Osservatorio Balcani e Caucaso Transeuropa (OBCT), is organizing a regional online conference: "Spread of disinformation during the pandemic and their impact on the Western Balkans", on 8 July 2021 online.

Main goal of the "Disinformation Conference 2021" is to raise awareness in the Western Balkans about the challenges of disinformation in contemporary democracies and to work towards actionable policy recommendations based on best practices that can be implemented in the Western Balkans, paying due attention to the most current developments in each WB economy in this area.

The main expected output of the conference is to explain the impact of disinformation narratives in the Western Balkans especially after the COVID-19 outbreak, to identify challenges for economies of the Western Balkans caused by the infodemic, the role of all relevant stakeholders in establishing a clear division between disinformation and facts and differentiating between credible media sources, and how to prevent the societal polarization/distortion caused by disinformation.

The conference will bring together over 100 professionals; including representatives from the regulatory authorities, key experts, academics, journalists, researchers, and practitioners in the region and beyond.
You can register here.