RCC Secretary General Majlinda Bregu met with Roma entrepreneurs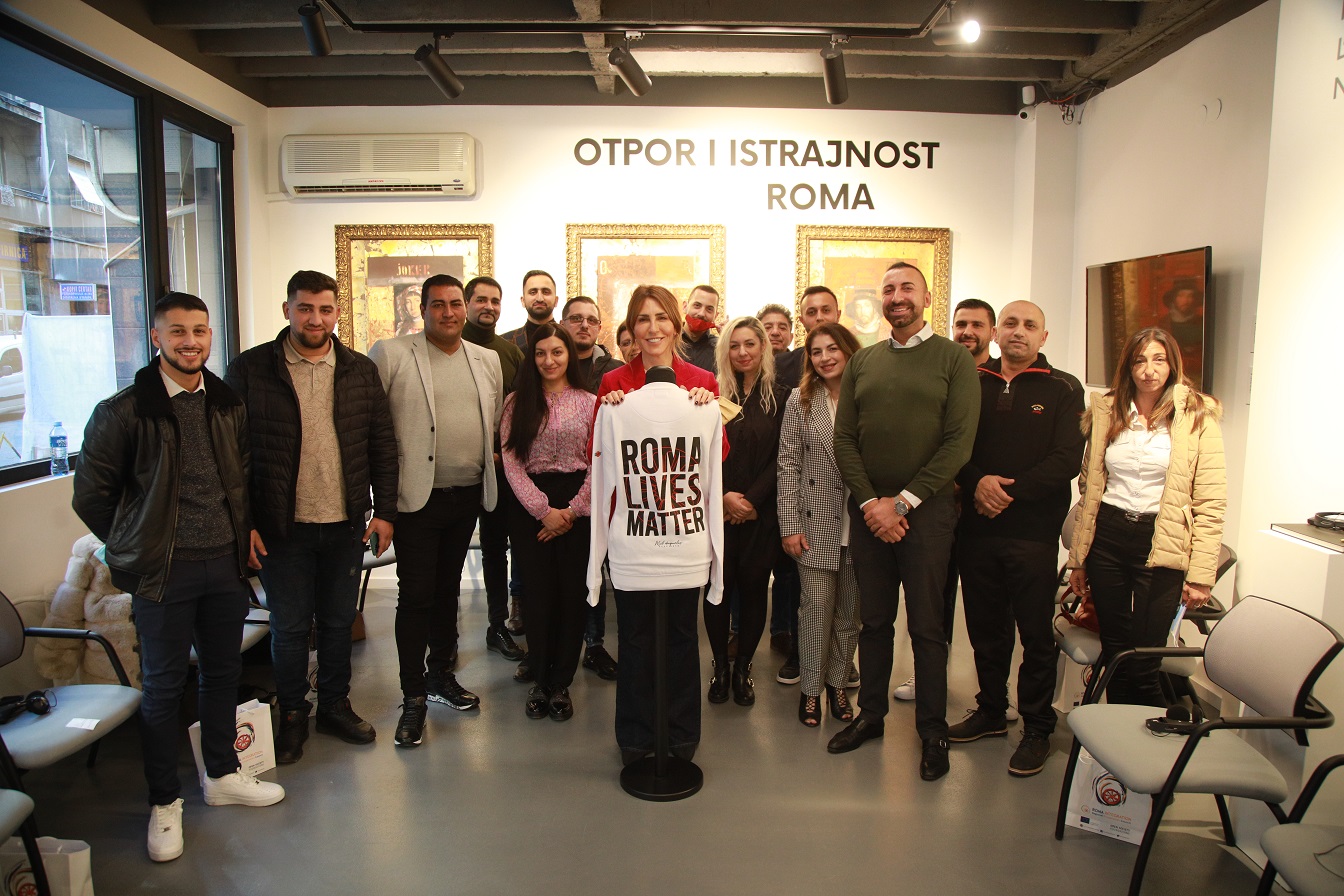 Following the validation of the Brdo Declaration and the commitment of the Western Balkans partners to the primacy of democracy, fundamental rights and values, as well their commitment to fully implement Green Agenda; and the 4th Western Balkans Digital Summit that especially emphasized the importance od Digital Skills and Digital Economy within the Digital agenda, RCC's Roma Integration team organized dialog with the Roma entrepreneurs on the topics of the importance of inclusion of Roma in the Digital and Green agendas.
The event was held in beautiful premises of the European Roma Institute for Arts and Culture in Belgrade and gathered entrepreneurs from the region who engaged in open discussion with Regional Cooperation Council Secretary General Ms Majlinda BREGU. Ms BREGU pointed out that RCC will continue supporting Roma Integration in the region, and that all stories of entrepreneurs were inspiring and motivational: "You are the ones who took responsibility and made it as entrepreneurs, and all of you are an example that attitudes towards Roma in the region should go beyond prejudices".
Mr Orhan USEIN, Roma Integration Head of Office called attention to the importance of inclusion of Roma in the Digital and Green agendas. "Roma citizens can develop skills and acquire opportunities to educate themselves, act innovative and feel the benefits of digital transformation with the purpose to access the labor market. The Green Agenda is a key driver for the transition to modern, carbon-neutral, economies. Roma are the largest individual waste collectors, working mainly in the grey economy. By establishing a system and providing training for waste separation and recycling, Roma people can transition from informal to formal work, and contribute to the goals of the Green agenda."
Mr Asib ZEKIRI, Executive Director of REDI Recycling explained in detail how their social enterprise for recycling works: "We aim to organize and employ individual Roma waste collectors while establishing a system for primary waste separation in households and companies. In the future, we plan to open our own Recycling Factory. When the social enterprise will have the capacity of processing the selected waste, it can obtain a higher price for the finished product. This will enable us to provide better care and conditions for the workers".
Seven entrepreneurs from the region shared their stories, challenges, plans and hopes for the future. They all emphasized the benefits of being present in the digital world, and raising their business on a higher level with available digital tools.
Mr Visar JASARAJ from Montenegro is a young Roma entrepreneur who established an online supermarket platform where customers place orders for their groceries; which he also delivers. Besides this, he also has regular markets in Podgorica.
Mr Mirsad ZABELJI, Podgorica, sells shoes and sneakers online using social media platforms. He uses social media not only to promote his articles but also to conduct financial transactions using the Instagram and Facebook Shops subpages.
Mr Denis DRINI, also from Montenegro, is a successful Roma entrepreneur who has a business is in the textile industry, both in production and in export-import related activities.
Ms Sladjana VASIC is a Roma woman from Kraljevo, Serbia. Her enterprise deals with the production and retail of underwear and other garments and clothing, which he has been dealing with for over 10 years. Ms Vasic has recently transferred her business online and uses proactively social media for promotion and selling her products. This has assisted her quite well during the lockdown period in Serbia and the ongoing pandemic. She is also a winner of the Roma Digital Boost Programme.
Mr Predrag CIRKOVIC is engaged in ice cream production for a very long time. However, only until recently, he became very famous, as he started promoting his ice cream on social media. His Instagram photos and stories attracted many visitors from all around Belgrade and the neighbouring cities, who consider his ice cream as one of the best around Belgrade and even further.
Mr Ilija STOJANOVIC has established the Roma media service in Belgrade which functions as a for-profit enterprise delivering news relevant for Roma integration and receives revenues from marketing. He also has a company for disinfection, disinsection and deratisation and organises continuous education for all Roma who want to do the same business.
Mr Enis AZIRI is a Roma entrepreneur from the Republic of North Macedonia. He is engaged into a family business of production and selling of furniture, and one of the participant at Roma Digital Boost Programme.
The event was held in cooperation with the organisation Roma Entrepreneurship Development Initiative (REDI), which supports Roma entrepreneurs. So far, they have provided training for more than 130 Roma entrepreneurs, and mentored and digitalised over 90 businesses.
Roma Integration project supported REDI in the organisation of next Roma Digital Boost Programme which will be held in the Republic of North Macedonia from 5 to 7 November, and attended by more than 30 Roma entrepreneurs.
More photos from the event are available in the Gallery.