20 Roma Entrepreneurs enhanced their digital skills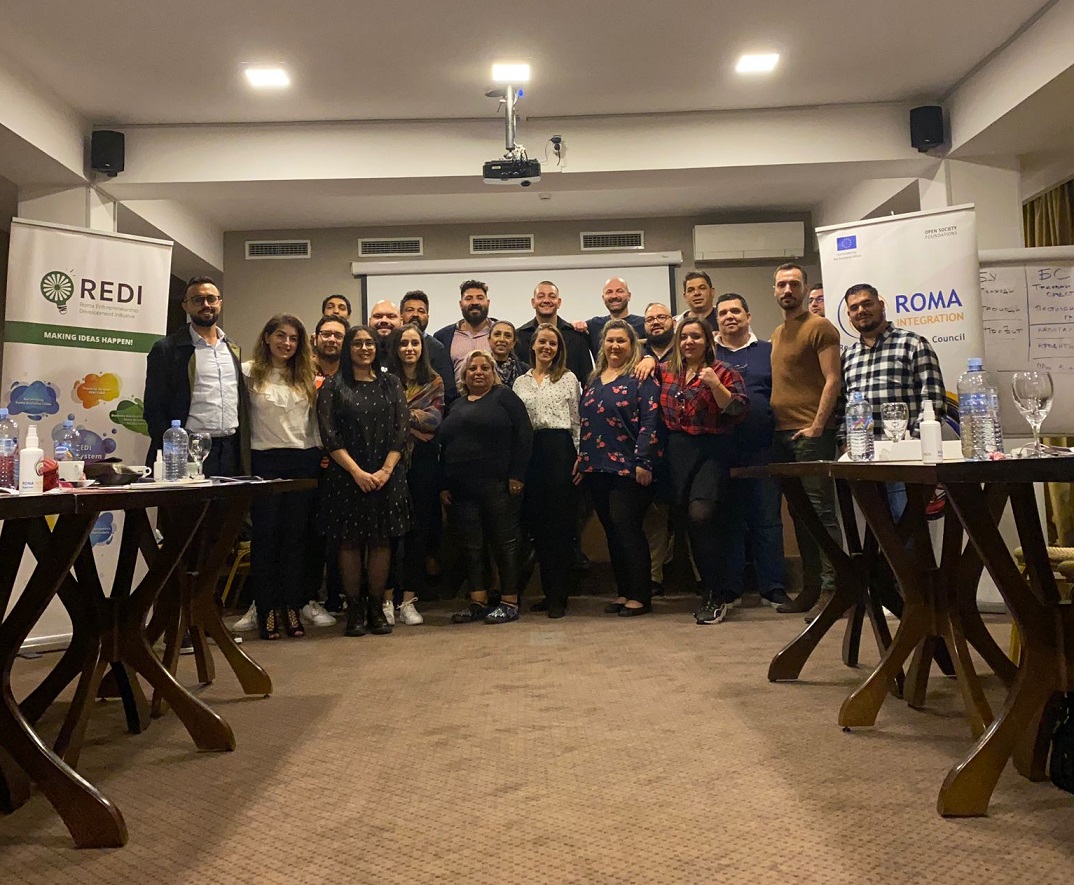 Roma Digital Boost, a three-day workshop, was held last weekend in Veles, the Republic of North Macedonia. The workshop gathered 20 Roma entrepreneurs and aimed to equip attendees with the digital tools and skills to use social media and other digital platforms to enhance their businesses.
REDI decided to create an accelerator program Roma Digital Boost to support the transition from traditional business to online business as well as to support the formalization of the businesses. Part of the REDI Operational Plan 2021, the program offers a unique opportunity to Roma entrepreneurs and equips them with digital tools and skills, to scale up their business and start developing their entrepreneurial activity online. The entrepreneurs who pass through this program, besides the training, are also receiving digitalization kits, individual coaching, and mentorship support with REDI experts", said Nadire Redjepi, director of field operations, Initiative for Economic Development of Roma REDI.
"It is crucial to empower our community to use digital skills and follow the latest trends. Educational programs such as Roma Digital Boost Programme, which we gladly supported both financially and with human resources, can speed up that process. Events such as this are strengthening the involvement of Roma citizens in promoting, shaping, and implementing the Digital Agenda for the Western Balkans. They are also reiterating the responsibility of the Governments from the region and the implementing agencies to tailor all-inclusive policies that will be beneficial for vulnerable groups. Roma people must not be left behind, and I hope to see more programs like this", said Mr Orhan Usein, Regional Cooperation Council Roma Integration Head of Office.
"The digital skills will help me and my family with our traditional business in blacksmithing to follow the society trends and get more known, get more orders online of our products. I am also an IT student I want to establish a company "Idea Creativ", so I can help Roma people to promote their business online and make more profit.", said Elvis Kundevski, entrepreneurs from Berovo city, participant in the program.
"This program will help me transfer my physical shop online and learn the basic processes in a company. With my skills and knowledge, I will motivate the new generation to become entrepreneurs", said Miradije Ramadanovska, Roma woman entrepreneur from Kumanovo, participant in the program, grantee of self-employment measures offered by the Agency of Employment in North Macedonia.
"The program taught me how to sell my products online, not only in my city but in all country. The digital tools will help me develop my business, will raise more interest among new clients. In our physical shop we sell 3 days a week. With the online shop we can sell anytime and get more customers", said Nermin Rasidova, Roma woman entrepreneur from Kocani, has business in the textile industry and children clothing. Mrs. Nermin Rasidova is a grantee of self-employment measures offered by the Agency of Employment in North Macedonia.
The event was organized by the Roma Entrepreneurship Development Initiative, the Republic of North Macedonia, with the financial support of Regional Cooperation Council Roma Integration and the European Union. It is also supported by USAID North Macedonia and Open Society Foundations.
The workshop gathered entrepreneurs from various industries such as retail, fashion, decoration services, caregiving, cleaning, handicrafts, beauty, and more.
In 2020 REDI piloted Roma Digital Boost during a series of online modules, gathering 60 participants from Romania, Serbia and North Macedonia in an accelerator program, in order to help them transit their businesses from conventional to digital. The best 3 developed business plans have been awarded 5000 EUR each (won by Roma women). The participants also have been awarded with digitalization kits, individual coaching and mentoring with experts in the field of business plan development, e-commerce, online marketing.