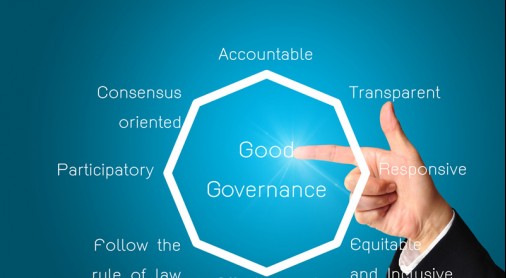 Good Governance
Good Governance is a part of the Governance for Growth pillar of the SEE 2020 Strategy and is a key cross-cutting issue in its agenda, as a prerequisite for the achievement of the Strategy's objectives and for the effective implementation of the Strategy's policy measures and instruments across all pillars.
Regional cooperation in this whole area is important in terms of mutual learning and the adoption of best practice, but even more so in terms of long-term stability. Integrated, smart, sustainable growth requires regional institutional harmonisation, regulatory arbitrage, and policy cooperation and coordination.
Headline Target
Improve governments' effectiveness as measured by the World Bank Governance Index from 2.33 to 2.9 by 2020
These indicators are based on six dimensions of governance, not all of which are covered by the SEE 2020 Strategy.
Dimensions and Actions:
1. Effective public services
Efficient and effective public administration is crucial in improving governance through more stable institutions and in implementing the anti-corruption agenda. One of the main aspects of the reform should be a transformation of the "traditional" administration into a citizen-oriented one, which would be aligned with citizens and clients´ needs and requirements.
Besides professionalization, democratization and modernization, one of the elements of the Strategy is decentralisation, especially the application of the subsidiarity principle, which allocates responsibility and capacity to the level of government that is best placed to use them. This should result in the enhanced provision of local public goods and more equal regional development.
Actions:
Rely on e-governance at the local, national and regional levels to ensure efficiency and a lack of bias (modernization);
Introduce a procedure for continuous improvement of the competence of public officials (professionalization);
Improving the quality of public services;
Upgrading policy and regulatory capacities;
Review the relations between various levels of government to ensure full respect of the principle of subsidiarity;
Dimension coordinator(s): Regional School for Public Administration (ReSPA), and Network of Associations of Local Authorities of South-East Europe (NALAS)
The overall objective of this dimension is to formulate coordinated regional measures that seek to reduce corruption in public administration, so as to improve government effectiveness, enhance the business environment and support the implementation of the other pillars. The need to counter corruption is essential to the broad goal of promoting growth, since corruption is a major deterrent to investment.
Objectives:
Reduction of bribes paid by households and businesses to the public administration;
Improve average score on the World Bank's Worldwide governance indicators (WGI) Control of Corruption index;
Achieving certified excellence in public procurement procedure and implementation.
Actions:
Introduce simple, clear, enduring and transparent rules of access to public services;
Increase public awareness through regular reports and by supporting independent agencies;
Rely on competitive procedures and avoid direct deals especially in public procurement;
Introduce regular evaluations of all government programmes and projects and independent auditing;
Build capacity of law enforcement agencies and judiciary and improve their regional cooperation and data exchange (including mutual legal assistance in corruption cases).
Dimension coordinator: Regional Anticorruption Initiative (RAI)
This dimension focuses its activities on achieving a significant improvement in the functioning of the judicial system in SEE. An independent, efficient and accountable judiciary is a sine qua non precondition for the rule of law, democracy and human rights development, for which reason Chapter 23 of the European Union acquis communautaire requires the establishment of an independent, efficient and accountable judiciary.
Ministries of justice need to enhance their capacity by improving their structure and internal management, in order to achieve more efficient workflow processes and results.
Efficiency goes hand in hand with competence. A sustainable quality of the justice system ensures predictable case law, which supports foreign investment and business growth. Universities could also increase regional cooperation to create regional capacities for implementing legal reforms, to strengthen scientific research and to prepare regional legal publications.
Actions
Introduce a comprehensive and enduring system of education and increased competence in the judiciary;
Introduce forms of judicial cooperation covering free access to information, cross border enforcement and cross border proceedings in bankruptcy and take over and mergers;
Introduce regulation that supports alternative dispute resolution and their complementarity with the judicial system.
Dimension coordinator: Regional Cooperation Council Secretariat