Press Releases
Svilanović via Twitter: SEE 2020 strategy dependable mechanism of regional economic growth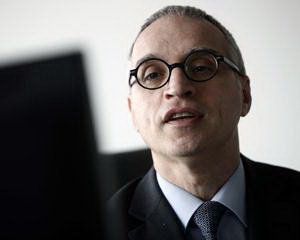 SARAJEVO – The region of South East Europe (SEE) may progress only if we work together diligently on transforming our economies into more open, competitive and interconnected ones, said the Secretary General of the Regional Cooperation Council (RCC) Goran Svilanović in his first Twitter interview with the regional press on Wednesday. Svilanović presented ambitious goals set by the recently adopted South East Europe 2020 strategy.
Answering questions from interested public, Svilanović pointed out that RCC's ambition is to grow all of the region's efforts towards joining the EU.
"If we manage to reach or even come close to the strategy's targets, each and every citizen will feel the benefits. One million jobs is four million family members affected – people that pay taxes, buy houses, shop for groceries, travel, drive cars", Svilanović said.
The goal of the SEE 2020 Strategy is to improve living conditions in the region and bring competitiveness and development back in focus, closely following the vision of the EU strategy Europe 2020. It stresses out the shared vision of the SEE economies to open up to 1 million new jobs by 2020, by enabling employment growth from 39% to 44%, increase of total regional trade turnover by more than double from 94 to 210 billion euro, the rise of the region's GDP per capita from current 36% to 44% of the EU average, and the addition of 300,000 highly qualified people to the workforce.
Svilanović pointed out that even though it may seem at first that the SEE 2020 strategy's scope deals with percentages and numbers, it actually deals with facts affecting people's lives across the region. "People over the age of 50 might not ever be employed again – this strategy aims at changing the reality for everyone and bringing them back to the labour market, which means back to a decent life", Svilanović said.
The strategy was developed by the RCC Secretariat in consultations with governments from SEE, European Commission and relevant regional and international institutions, following a mandate by the region's ministers of economy.
RCC Secretary General's first Twitter interview under the hashtag #SEE2020 gathered journalists and interested public from all countries of the SEE region and represents one of the ways of involving interested parties in the comprehensive process of the SEE 2020 strategy implementation.
Twitter: @rccint, #SEE2020
Videos:
B-roll: http://dkq.me/19crfiL
YouTube:
http://www.youtube.com/watch?v=5zO9OjWl4qI&feature=em-upload_owner
More news