Press Releases
RCC Secretary General invites Skopje to propose projects with neighbours to fully utilize EU funds available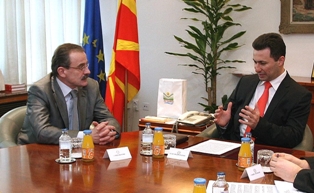 SKOPJE/SARAJEVO – "I invite Skopje authorities to propose projects to be implemented under the EU's Multi-beneficiary Instrument for Pre-accession Assistance (MB IPA) Programme, and take full advantage of cooperation links the Regional Cooperation Council (RCC) has built with EU institutions for this purpose", RCC Secretary General Hido Biscevic told Prime Minister of The Former Yugoslav Republic of Macedonia Nikola Gruevski in Skopje yesterday.
"The current world financial crisis has reinforced the need for the countries of South East Europe (SEE) to work together to create and maintain a stable political and economic climate susceptible to further investment and development of the region", said Biscevic.
Prime Minister Gruevski confirmed his country's strong commitment to regional cooperation and fully supported RCC efforts in this respect. Both officials agreed that reform processes and positive trends in regional cooperation should be continued.
Secretary General Biscevic also emphasized the need to address the remaining open issues in SEE in a spirit of good neighbourly relations and in a result oriented manner, decupling them at the same time from EU integration processes.
"EU integration and development have to continue along the process of resolving the open issues. Schools, hospitals, roads need to be built; good education, solid health systems and improved infrastructure are prerequisites for advancement and competitiveness of our region. They simply cannot be held hostages of any open issue."
While in Skopje, the RCC Secretary General also met with a number of relevant ministers and other high officials of The Former Yugoslav Republic of Macedonia.
The EU's MB IPA will support joint projects by several countries, in areas such as economic and social development, fight against organized crime and corruption, administrative and judicial reform, disaster risk reduction, exchange of students and academic staff, and supporting civil society. Deadline for submitting project proposals for the use of funds from the 2010 Multi-beneficiary IPA is May 2009.
More news