Digital Solutions: Six new 'made in Western Balkans' products presented at the 4th Digital Summit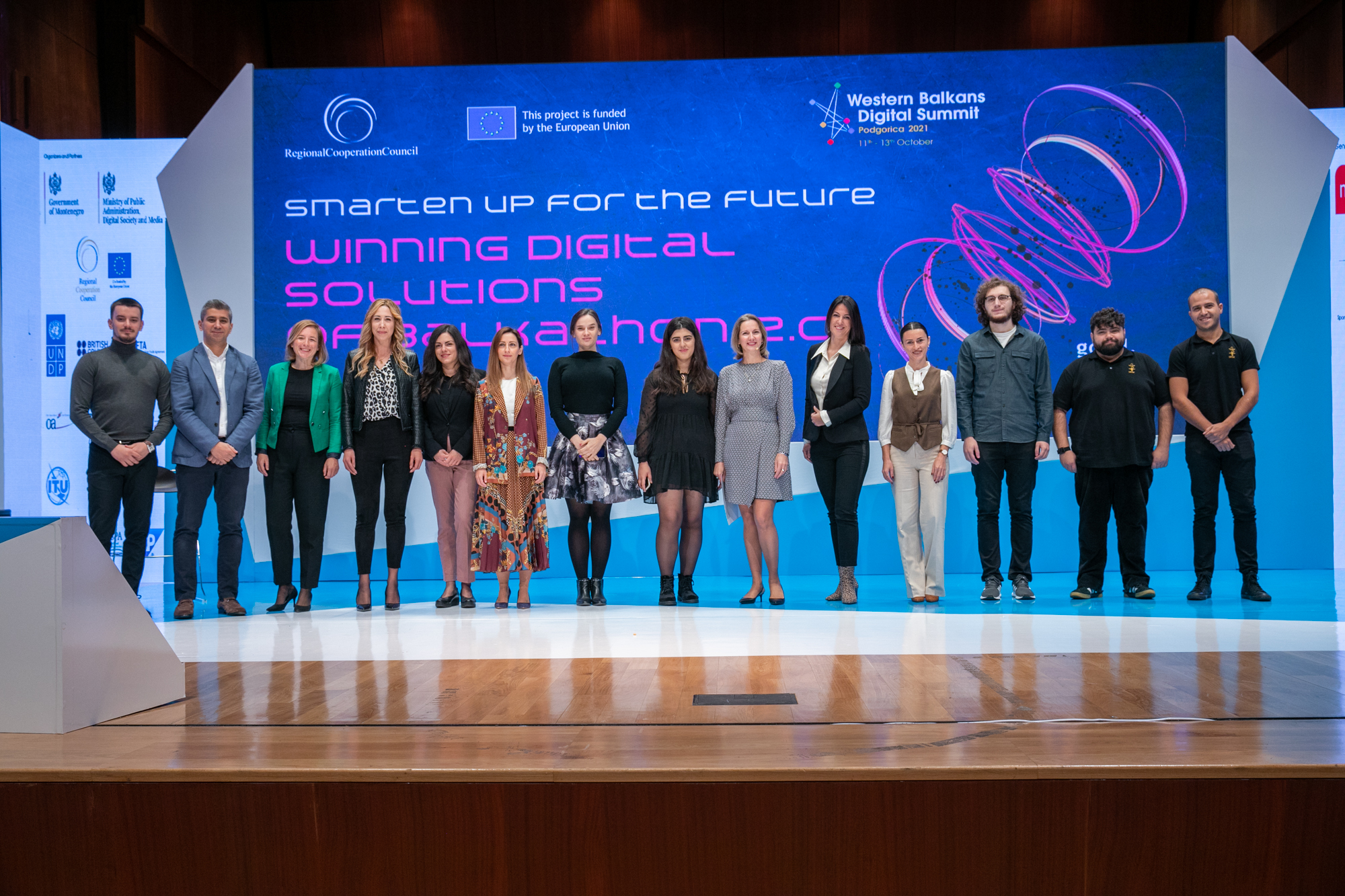 Balkathon 2.0 competition awards turned into products
Sarajevo/Podgorica – Six new 'made in Western Balkans' digital products have been presented at the 4th WB Digital Summit in Podgorica today. Authors of the products connecting digital with organic food, agriculture, sales, health, transportation services, small businesses, and environment-friendly plastic are all the winners of the second Balkathon, regional annual competition organised by the Regional Cooperation Council (RCC) and funded by the European Union, with the aim to encourage creation of new digital solutions in response to the challenges of our daily lives.
"We are very proud that the competition born out of a wish to help our region in times of pandemic resulted today in 6 great products that can be of use to the citizens and businesses in our region. I congratulate these young people and wish them all success in the placement of these products and in their future work. I would also like to use this opportunity to invite all interested young people, start-ups, entrepreneurs, students, digital innovation hubs, scientific parks, universities, SMEs, etc. from all the Western Balkan economies to join our third Balkathon next spring. Maybe your solution will be the winning one," said Maja Handjiska Trendafilova, Head of RCC Programme Department at the event.
These are the digital products:
Taxi app Pokupi.me – made by the team 'Pokupi', from Montenegro, presented by Wael Alkhalidi
This app brings all taxi companies to one platform by making it safer and easier for the drivers and the customers. The application aims to contribute to the digital transformation by modernising transport, supporting the resolution of illegal taxi operations and simplifying the process with the government tax administration and the introduction of taxi service. The app has been developed and could be found at https://pokupi.me/en/. Video presentation can be found here.
Online doctor - e-Health Clinic: Made by the team 'Kosovo Digital Association', from Kosovo*, presented by Ilir Asllani
This innovative and comprehensive platform will enable access to faster, closer, and less expensive health services to patients regardless of the distance or location of their preferred doctor. The platform will enable patients to book an appointment for online consultation with a specialist of their preference. It starts with Kosovo* but is intended to expand through the region. The platform can be found www.ehealth-clinic.com. Video presentation can be found here.
Small business growth platform – Accelera: Made by the team 'ISLLA', from North Macedonia, presented by Katerina Klimovska
Accelera platform helps small business grow by finding potential customers and promoting businesses. It aims to connect entrepreneurs, craftsmen, and artisans with their target market and help them develop the business in an easy, user-friendly way. The platform is available from today at http://accelera.mk Video presentation can be found here.

Environment-friendly biodegradable plastic – BIFROST: Made by the team 'BIFROST", from Serbia, presented by Nenad Jovanovski
The solution offers technical solution that makes environmentally friendly biodegradable plastic from industrial hemp. Besides machines, Bifrost team will offer training for users and start small production of industrial hemp-based items to showcase versatility of the material. All products are envisaged to be available for online sales. The solution will be available soon at https://bifrostbioplastic.com/. Video presentation can be found here.
Online platform 'E-KLINIKA': Made by the team e-Klinika, from Bosnia and Herzegovina, presented by Aleksandar Kovac
This online platform enables making doctor appointments easier and faster for citizens, and at the same time helps clinics in their daily management and offers them entrance to the new world of online appointments. The solution is in the final stage of development, and will be available soon at www.e-klinika.net. Video presentation can be found here.
App for organic food trade – Farmers to homes: Made by the team 'HEST', from Albania, presented by Olsa Ramadani
This user-friendly app will give an opportunity to the farmers to reach the customers easier by selling their organic products online. At the same time it will enable citizens to have access to healthy, organic, locally produced food in an easier and less time consuming way. The app is in the final stage of development and will be available soon. Video presentation can be found here.
More on Balkathon.
More on Western Balkans Digital Summit.

*This designation is without prejudice to positions on status, and is in line with UNSCR 1244/1999 and the ICJ Opinion on the Kosovo declaration of independence.