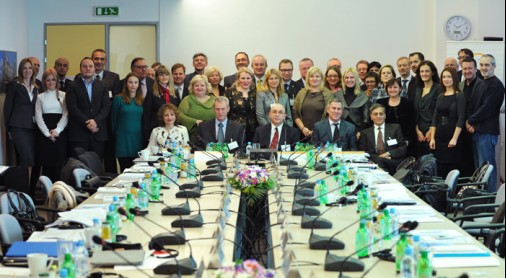 International seminar: South East Europe 20 Years On: Transformation from State to Public Broadcasting
14 November 2011
Sarajevo, Bosnia and Herzegovina
The aim of the seminar is to analyze the state of public service media in South East Europe 20 years into the democratic transition, with a view to outline a future course of action in support of their freedom, independence and sustainability.
It will gather directors general of public broadcasters, senior government officials, representatives of regulatory authorities and civil society (media organisations) from South East Europe, as well as from relevant international organisations.
The seminar is co-organized by the European Commission (EC)'s Enlargement Directorate-General and the Regional Cooperation Council (RCC) Secretariat, with support of the European Association of Public Service Media in South East Europe and the European Broadcasting Union (EBU).
Documents:
Conclusions: EN, BS
Programme: EN, BS
Media Advisory: EN, HR
Press release: EN, SR
Opening addresses:
Presentations:
The views expressed in the presentations below belong solely to the authors and do not necessarily reflect the views of the Regional Cooperation Council and its Secretariat. The RCC Secretariat is not responsible for the content of the presentations.
Josip Popovac, President, European Association of Public Service Media in South East Europe/ Director General, HRT (hr)
On behalf of Ingrid Deltenre, EBU Director General, address by David Lewis, Head of EBU Member Relations and Special Assistance (en)
Dinka Zivalj, RCC Spokesperson/Head of Media Unit (en)
Videos/statements by the participants of the seminar:
Opening of the international seminar South East Europe 20 Years On: Transformation from State to Public Broadcasting
Hido Biščević, RCC Secretary General
Rudo Vidović, Minister of Communications and Transport of Bosnia and Herzegovina
Andris Kesteris, Principal Advisor on Civil Society and Inter-institutional Relations, Directorate General for Enlargement, European Commission
Josip Popovac, President, the European Association of Public Service Media in South East Europe
Dinka Živalj, RCC Spokesperson/Head o Media Unit
Dawid Lewis, Head of EBU Member Relations and Special Assistance
Vassili Costopoulos, Director of the Department of Legal Affairs, ERT/ EBU Administrative Council Member