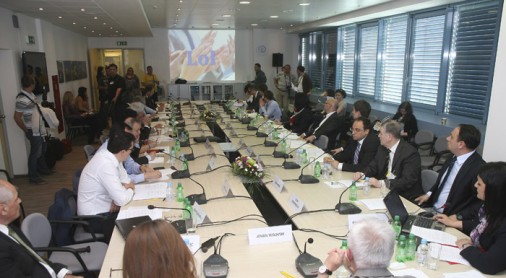 Regional conference on strengthening air traffic regional cooperation in SEE
29 April 2013
Sarajevo, Bosnia and Herzegovina
The conference discussed ways to strengthen regional cooperation in air traffic, focusing on more efficient and safer air navigation services provision in the regional airspace. A Letter of Intent on Joint Service Provision Area in South East Europe was signed by involved partners.
The event was co-organized by the Regional Cooperation Council (RCC) Secretariat and the Montenegrin Civil Aviation Agency. It brought together representatives of Civil Aviation Authorities (CAAs) of Albania, Bosnia and Herzegovina, Kosovo*, The Former Yugoslav Republic of Macedonia, Montenegro and Serbia. Chief Executive Officers of national Air Navigation Service Providers and of Hungarocontrol also took part in the conference.
*This designation is without prejudice to positions on status, and is in line with UNSCR 1244 and the ICJ Opinion on the Kosovo declaration of independence.
Documents:
Opening addresses:
Jovan Tegovski, Chief of Staff, Regional Cooperation Council Secretariat (EN, BS)

Presentations:
The views expressed in the presentations below belong solely to the authors and do not necessarily reflect the views of the Regional Cooperation Council and its Secretariat. The RCC Secretariat is not responsible for the content of the presentations.