Balkan Barometer 2020
THE SHAPE OF THINGS TO COME
24 June 2020 (15:50-17:30)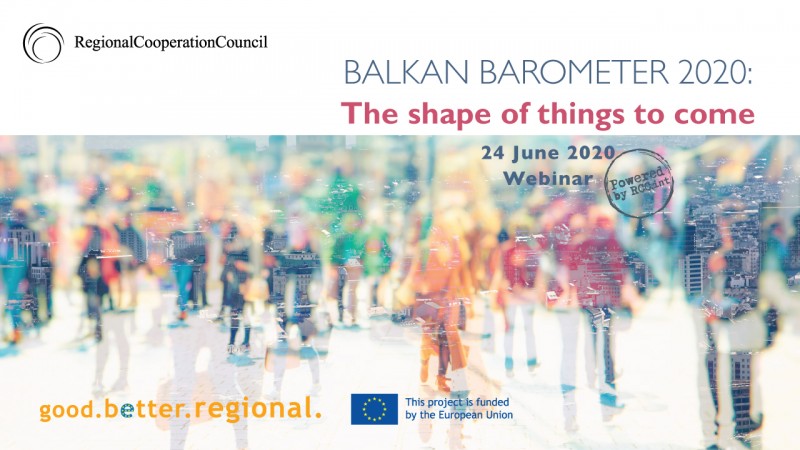 The 2020 edition of the Balkan Barometer represents the next chapter in the steady evolution of the region's foremost survey of public and business opinion. Launched as an attempt to measure impact of regional actions implemented under the South East Europe (SEE) 2020 Strategy, the Barometer is now firmly established as a reliable source of regional data widely employed and referenced by media, business, civil society and decision makers alike.
The event will serve to launch the Balkan Barometer 2020 survey and its findings, as well to take stock of the progress achieved by the Western Balkans economies in advancing the regional cooperation, European integration and transformation agenda.
The main aim of the event is to provide a platform for discussion on the topics covered with the report and to elaborate on the state of play of the rapidly changing regional landscape. The regular emergence of social and economic challenges and topics, whether global or local, has rarely been unaccompanied by regional waves and the Barometer has always recorded their effects on the SEE community. In particular, this event will provide an opportunity to discuss attitudes towards cooperation and integration, both at regional and EU levels, helping inform the work of policy makers and other interested regional stakeholders.
Agenda
15:30-15:50
Registration to the webinar
15:50-16:00
Presentation of the Balkan Barometer 2020 video

The video is a snapshot of the BB 2020 edition, conducted in WB 6 during December 2019-January 2020. Key findings presented in the video capture the citizens and business perceptions on regional cooperation, European integration, brain drain, employment challenges, internet and digital literacy, challenges of vulnerable groups, trade trends, environment, rule of law, migration.

16:00 – 16:20
Introductory remarks

The introductory remarks of the Webinar will be given by Secretary General of RCC and guest speakers:

16:20 – 17:20
Panel discussion

Are the Western Balkan businesses and citizens satisfied with the overall regional situation and how were they impacted by the Corona outbreak?

Moderators:

Video of Covid-19 edition of Balkan Barometer - The video presents shortly the main findings of the Covid-19 edition of BB conducted during April-May 2020

Panelists:

Questions & Answers from virtual audience

17:20 – 17:30
Wrap up of the Webinar

( The moderator wrap up the webinar and highlights key messages)

The Webinar will be livestream on Facebook and YouTube channels of the Regional Cooperation Council.

Webinar will be organised on ZOOM platform. Technical instructions for the meeting will be send within June 22nd 2020.