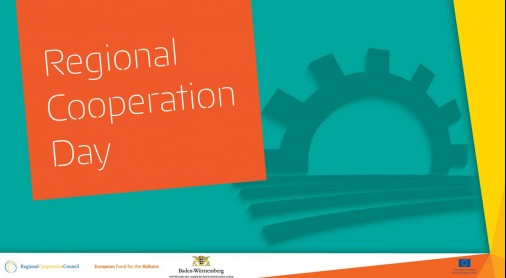 Regional Cooperation Day in Brussels
6 May 2015
Regional cooperation in the Western Balkans; the enlargement agenda; challenges and opportunities of the Western Balkan economies; unemployment; how do people in the region feel about their lives today, what are their hopes for the future?
What are the pressing issues of the Western Balkans? To map the current state of affairs and to continue to look for solutions, the Regional Cooperation Council in collaboration with the Representation of the State of Baden-Württemberg to the EU, and the European Fund for the Balkans have initiated the Regional Cooperation Day in Brussels.
Last August, the Berlin process started a cycle of enhanced EU engagement with the Western Balkans with a special emphasis on Enlargement. The focus on regional cooperation enhancing peace and reconciliation, strengthening economic governance, competitiveness and sustainable growth for the Western Balkans, as well as connectivity, is the core of the Berlin process. The 6 May was an opportunity to present the current state of regional cooperation, two thirds of the way between the Berlin and the Vienna summitč to analyse the first results, shed more light on how things stand with the presentation of the Balkan Barometer, a comprehensive Public and Business opinion survey.
Prior to high level panels, the Regional Cooperation Day presented the Balkan Barometer and, during the lunch break, a mini concert by "Les femmes des Balkans" (Amira Medunjanin, Tamara Obrovac and Biljana Krstic) presenting the best of ethno music from the region. There was also an exhibition of posters of rehabilitated monuments in South East Europe, which participated in the Ljubljana Process II – Rehabilitating our Common Heritage, managed by RCC Task Force Culture and Society. The lunchtime programme showed that culture is a regional asset and contribution to economic development and reconciliation.