Personal Angle Anja Kostadinovic: Do what you love. Only then you will be happy and successful.
25 Mar 2020

Personal Angles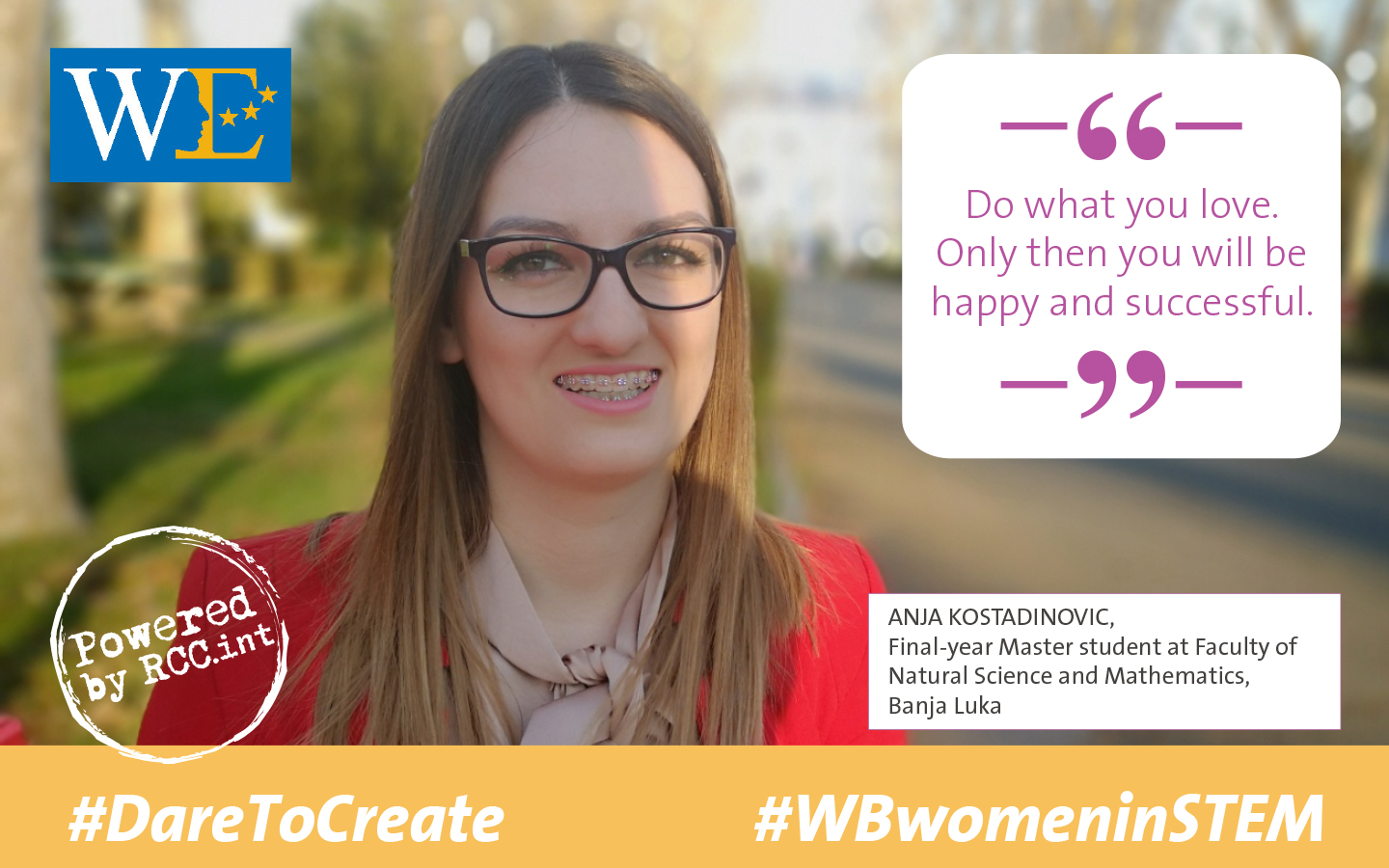 My name is Anja Kostadinović. I am a Professor of Chemistry, by profession. I have continued my education by undertaking Master's programme at Department of Chemistry, Faculty of Natural Science and Mathematics in Banja Luka. I am finalising my Master's paper and preparing thesis defence. My Master's paper deals with researching the potential applications of pyrophyllite which is found in a hamlet of Parsovici near Konjic, in the amount of around 38 million tons, which is probably the largest pyrophyllite deposits in the world.
I work in several primary schools. My two loves are intertwined – my love for chemistry and my students. I try to use a different way (more interesting and easier) to make young generations more familiar with this very useful, versatile and applied science. Chemistry inspires curiosity in children. Last year I helped organise two summer schools for primary school students, RM@schools, ESEE Education Initiatives supported by EIT Raw Materials Fund, and organised by Chemistry Study Programme, Faculty of Natural Science and Mathematics, Banja Luka. I often do projects in school and continue with professional training. Just recently I received another certificate – on active participation in 21st Century Schools (critical thinking, problem solving and use of micro:bit devices, British Council). I participated in International Conference on Medical and Biological Engineering (CMBEBIH 2019) with my paper Natural Pyrophyllite as a Substitute for Talc in Medical and Pharmaceutical Applications. Furthermore, another work was presented at the International Youth Conference on Kopaonik (Geosciences applied to solve humanitarian problems worldwide); the paper is titled Characterisation and the Applications for Pyrophyllite Parsovići Deposit.
At the end of last year I was ADRIA Internship Programme (University of Zagreb) fellow and spent a month in Sarajevo in AD Harbi company which researches the use of pyrophyllite in agriculture, but also in pharmacy and cosmetics industry, construction, and water industry.
My message to young people is to do what they love. Regardless of job description, if it is what makes you wake up with a smile in the morning, you are on the right track. It is only then that you will be happy and prosper. By doing what you love, you love yourself. Young women should carve out their place in the society. It is young people who change the world.
My goal is to keep advancing. It requires continuous learning, work and exercise, but when you do what you love, you do it with ease and feel satisfaction. I would like to work on a large-scale project that would enhance chemistry and bring much more funding to my country. It is amazing to know that you can contribute to development and popularisation of one scientific discipline.
Chemistry is so magical that one can never grow tired of it. I hope chemistry as science will take the place it truly deserves.
With good organisation you can find time to also socialise with friends, travel, read and watch a good movie.
Anja Kostadinovic, Final year Master student at Faculty of Natural Science and Mathematics, Banja Luka