Press Releases
South East European parliamentarians agree in Belgrade to boost regional cooperation in fighting poverty and social exclusion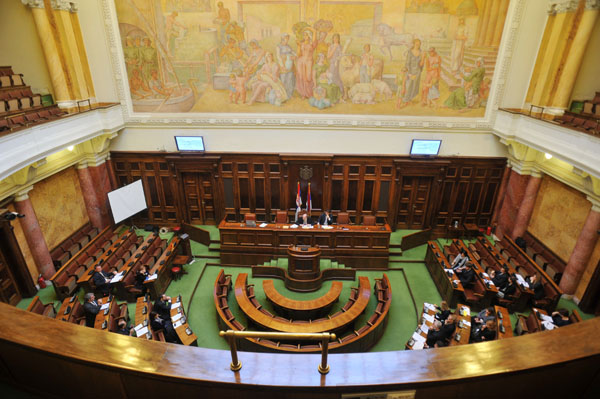 BELGRADE/SARAJEVO – A regional conference on the role of national parliaments in fighting poverty and social exclusion concluded in Belgrade today, with a pledge to increase inter-parliamentary cooperation in order to decrease impoverishment levels in South East Europe.
The event was organized by the Regional Cooperation Council (RCC) Secretariat and the National Assembly of the Republic of Serbia, with support of the Friedrich Ebert Foundation.
The regional conference "Fight against Poverty and Social Exclusion in the Context of European Integration Process: The Role of National Parliaments" was held to contribute in aligning national legislations with that of the European Union (EU) on the issues of social inclusion and fight against poverty.
The event was opened by Slavica Djukic-Dejanovic, Speaker of the National Assembly of the Republic of Serbia; Hido Biscevic, RCC Secretary General; Anna Ibrisagic, Member of the European Parliament; Vincent Degert, Head of Delegation of the European Union to the Republic of Serbia; and Michael Ehrke, Director of the Friedrich Ebert Foundation in Belgrade.
Slavica Djukic-Dejanovic underlined that fight against poverty and social exclusion requires concerted efforts of not only the governments and parliaments of the Western Balkan countries, but also civil society, international organizations, the private sector, the media, etc.
"The National Assembly of the Republic of Serbia, in the present term of office, adopted several laws with the aim to reduce poverty. We will continue our legislative work, perform more efficient oversight over the implementation of the adopted laws, and focus on achieving the Millennium Development Goals in the process of European integration."
The event served as a forum for exchange of best practices and discussion on potential common initiatives aimed at accelerating EU integration and meeting related Copenhagen and Madrid criteria. It was linked to the European Year for Combating Poverty and Social Exclusion and represents a regional contribution to EU targets and achievements in this field.
"There can be no proper economic development without inclusive social development", said Hido Biscevic, RCC Secretary General.
"This is particularly important for post-transition countries, where deep structural economic and social changes increase the vulnerability of many social groups and sectors, whilst the current crisis only adds to the gravity of the problem. Our parliaments should act to ensure that positive political trends in the region are now translated into an irreversible process and concrete development projects to the benefit of our citizens."
The conference participants included Members of Parliament from Albania, Bosnia and Herzegovina, Serbia, Slovenia, The Former Yugoslav Republic of Macedonia and Turkey, as well as relevant officials from EU institutions.
More news