Press Releases
Justice and Home Affairs Ministers agree on stepping up cooperation in the joint fight against terrorism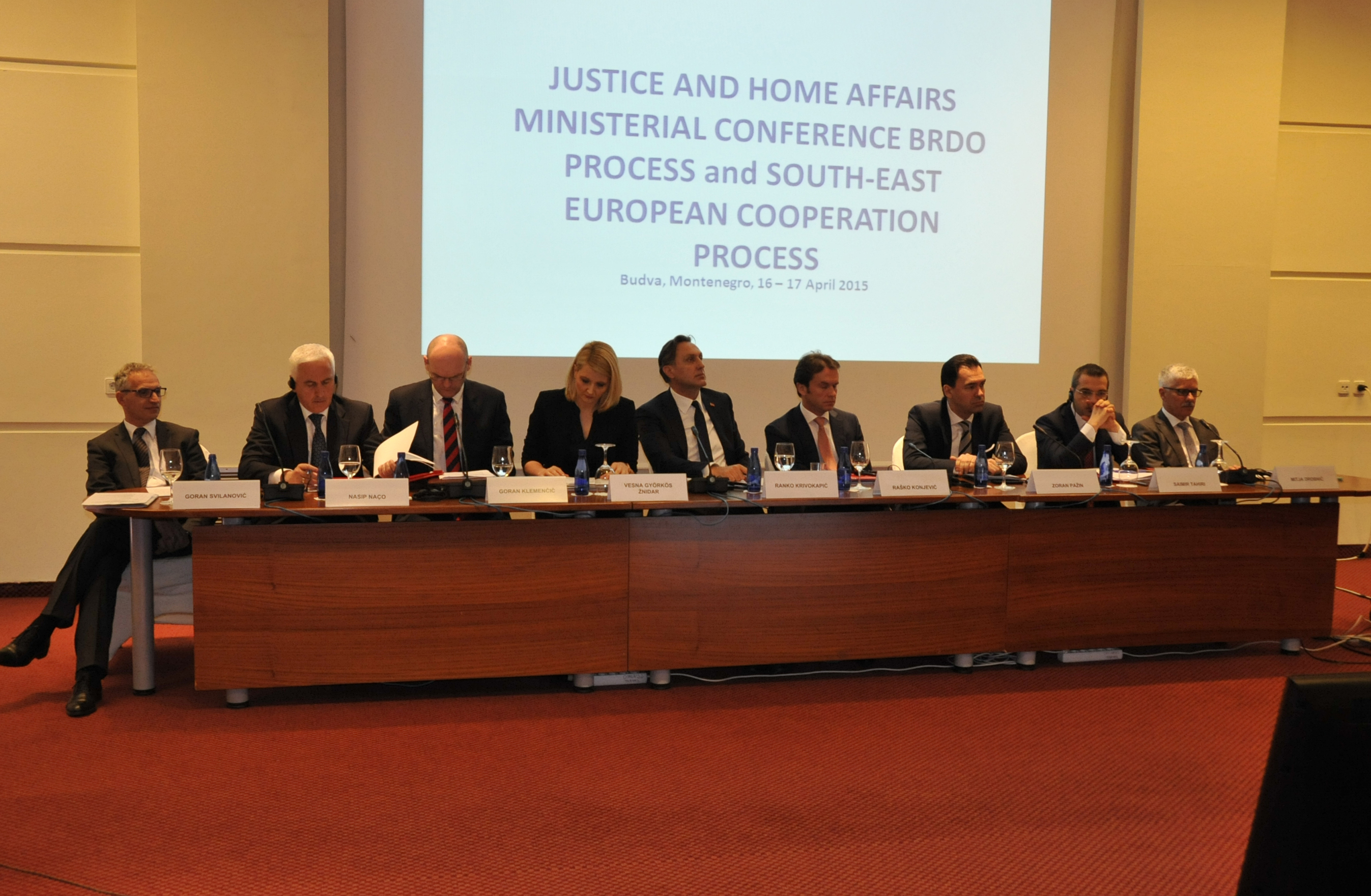 SARAJEVO/BUDVA, 17 April 2015 – Ministers of Interior and Justice from South East Europe (SEE) agreed on the importance of a common approach to prevention, detection and fight against terrorism in the region, at the Ministerial Conference on Justice and Home Affairs that ended in Budva, Montenegro today.
The Regional Cooperation Council (RCC) will continue to support the preparation of a regional cooperation platform in the SEE that would bring together all relevant national, regional and international stakeholders with the aim of developing a common approach on the issue of terrorism and foreign terrorist fighters.
Ranko Krivokapić, President of the Parliament of Montenegro, said in the keynote speech that such a good turnout of the ministers to the event signals the high interest to jointly tackle this problem.
"Terrorism is a threat that causes a latent fear of our citizens and has to be dealt with jointly, without delay."
Raško Konjević, Minister of the Interior of Montenegro; Zoran Pažen, Minister of Justice of Montenegro; Vesna Györkös Žnidar, Minister of the Interior of Slovenia; Saimir Tahiri, Minister of the Interior of Albania; Mitja Drobnič, Head of the EU Delegation to Montenegro; and Goran Svilanović, Secretary General of RCC, addressed the participants at the beginning of the Conference. They all agreed that terrorism poses a threat far beyond the region's boundaries, reminding that criminals in the region cooperate much more efficiently than the institutions.
"Terrorism phenomenon as such requires regional and global cooperation of all relevant institutions and stakeholders", said Goran Svilanović adding that it underlines the importance of a determined regional response as its consequences influence the whole region and wider.
RCC Secretariat supported the organisation of the Ministerial Conference lead by Ministry of the Interior of Montenegro and Ministry of the Interior of Slovenia under the auspices of the Brdo Process and the Albanian Chairmanship-in-Office of the South-East European Cooperation Process (SEECP).
More news