Press Releases
RCC to host first meeting of key Southeast Europe initiatives and international partners on justice and home affairs issues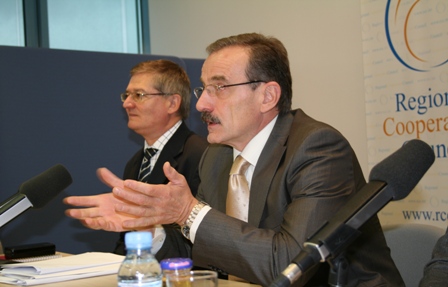 SARAJEVO – The Regional Cooperation Council (RCC) will host the first meeting of six regional initiatives and 20 international organizations active in the field of justice and home affairs in the Southeast Europe, in Sarajevo on 15-16 September.
The First Coordination Conference of the Southeast Europe Initiatives on Justice and Home Affairs will provide a forum for better coordination of the regional initiatives and international organizations working in Southeast Europe on the implementation of justice and home affairs projects and contributing to the reform of justice and law enforcement agencies. The event will be opened by the RCC Secretary General Hido Biscevic.
On the first day of the meeting, representatives of regional initiatives will discuss current state of affairs and the necessary steps to improve regional cooperation and its coordination as well as the specific needs of each particular initiative.
The second day is envisaged as a forum for the initiatives and relevant international organizations to modulate common efforts and to provide efficient coordination, avoiding duplication and unnecessary fragmentation.
The regional justice and home affairs initiatives present at the conference will include: the Migration, Asylum, Refugees Regional Initiative (MARRI), the Regional Anti-Corruption Initiative (RAI), the Southeast Europe Cooperative Initiative Regional Center for Combating Trans-border Crime (SECI Centre), the Secretariat of the Southeast Europe Police Cooperation Convention (PCC Secretariat), the Southeast European Prosecutors Advisory Group (SEEPAG), and the Southeast Europe Police Chiefs Assotiation (SEPCA).
Journalists are invited to attend the two-day event, which opens at 9 a.m. on 15 September 2008, at the premises of the RCC Secretariat in Sarajevo, Trg BiH 1/V, 71000 Sarajevo, Bosnia and Herzegovina. The second day will take place at the Casino Hall of the Holiday Inn hotel, Zmaja od Bosne 4, 71000 Sarajevo, as of 9 a.m.
The Media Advisory in Bosnian language is available HERE.
More news