Press Releases
RCC Secretariat to host meeting of key initiatives active in Central, Southeast Europe and Black Sea region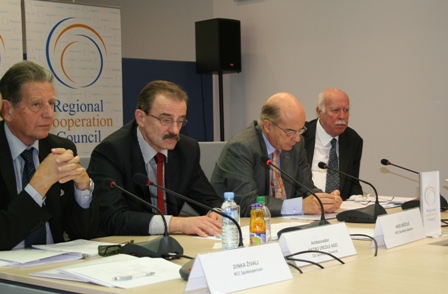 SARAJEVO – The Secretariat of the Regional Cooperation Council (RCC) will host a coordination meeting of the Adriatic-Ionian Initiative (AII), the Permanent International Secretariat of the Organisation of the Black Sea Economic Cooperation (BSEC PERMIS) and the Central European Initiative (CEI), at its premises in Sarajevo, on Monday, 13 October.
This regional meeting will examine the ways of harmonising activities of the RCC Secretariat with those of AII, BSEC PERMIS and CEI by means of exchanging best practices, elaborating joint projects and participating in events on different levels.
The event will be opened by the RCC Secretary General, Hido Biscevic, with introductory remarks by the AII Secretary General, Ambassador Alessandro Grafini, the BSEC Secretary General, Ambassador Leonidas Chrysanthopoulos, and CEI Secretary General, Ambassador Pietro Ercole Ago.
Representatives of the South East European Cooperation Process (SEECP), the Republic of Moldova CEI, Albanian BSEC, and Greek AII Chairmanships-in-Office will attend the meeting.
Journalists are invited to attend the opening of the meeting on Monday, 13 October 2008, at 9.30 a.m., at the premises of the RCC Secretariat in Sarajevo, Trg BiH 1/V, 71000 Sarajevo, Bosnia and Herzegovina.
A version in Bosnian language is available HERE.
More news