Public Policy Masters Students from Hague visit RCC Secretariat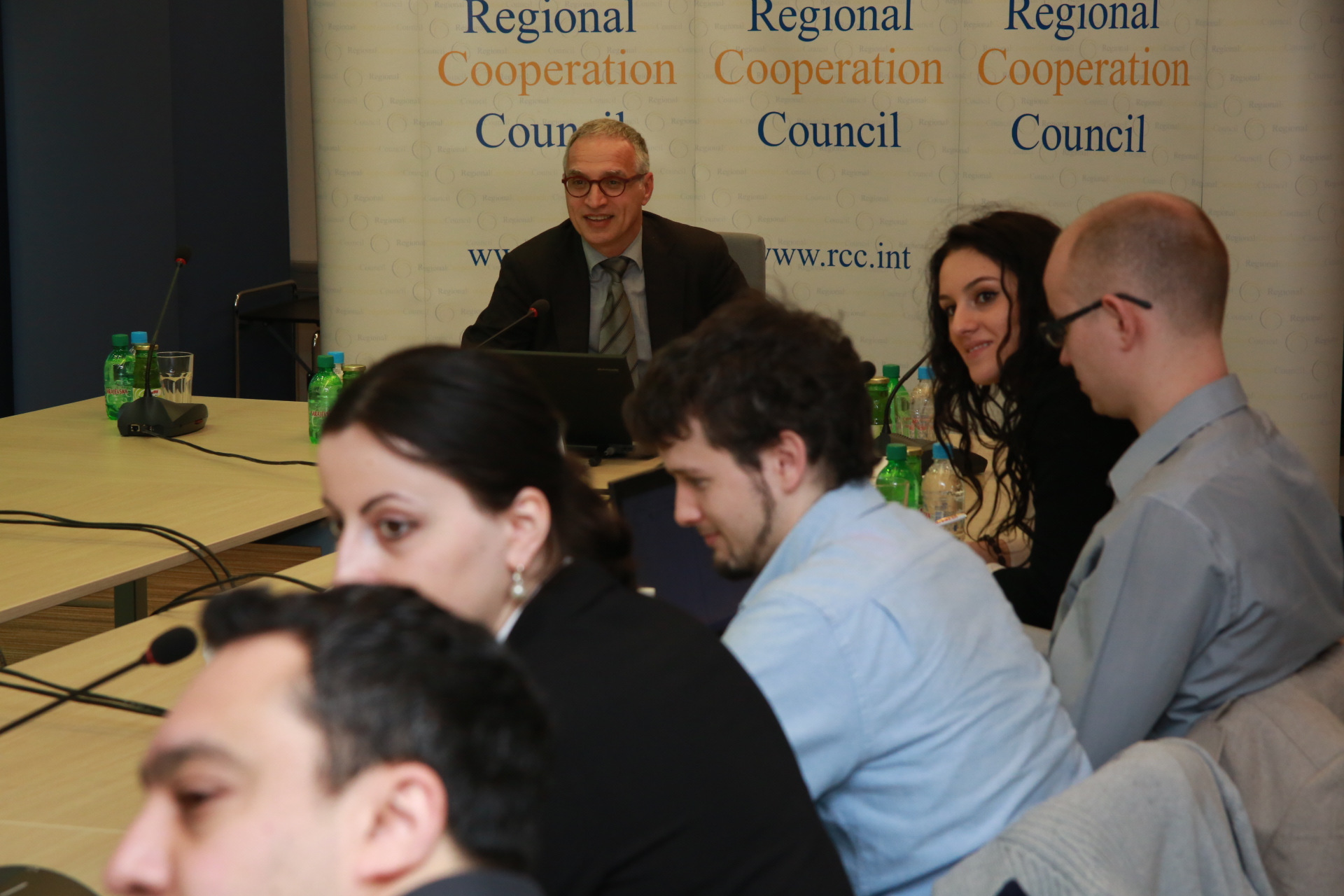 Regional Cooperation Council's (RCC) Secretariat hosted a group of 26 students and professors from the Erasmus Mundus Masters Programme in Public Policy (Mundus MAPP) from Hague, Netherlands today.
The Mundus MAPP delegation was welcomed by the RCC Secretary General, Goran Svilanovic, who explained the RCC's nature and mandate through an interactive presentation, followed by an extensive dialogue with students.
While highlighting the core role of the RCC: promotion of regional cooperation and the EU integration of the South East Europe (SEE); generation and coordination of projects of regional character; and creation of appropriate climate for their implementation, Svilanovic stressed that the organisation's main focus is economy and implementation of regionally endorsed SEE 2020 strategy.
"The SEE 2020 growth strategy is a core of our business in the years leading to the 2020. Its main focus is creation of 1 million jobs in the region by that time. Now, it is of crucial importance for us to see that SEE 2020 strategy is becoming reality. The RCC with its partners and stakeholders has already started working on the process of its implementation."
This students' visit is a part of a regular Mundus MAPP annual study trips organised with an aim to get the students acquainted with various organisations, institutes, departments, ministries, think tanks and non-governmental organisations, which work in the field of Public Policy.
The Erasmus Mundus Masters Programme in Public Policy is a two-year-long international Masters course funded by the European Commission and offered by four leading European insitutions: Central European University, Budapest (Hungary), International Institute of Social Studies of Erasmus University Rotterdam (Netherlands), Institut Barcelona d'Estudis Internacionals (Spain) and the University of York (UK). The program is coordinated by Central European University.