Regional efforts in combating climate challenges discussed at the 5th meeting of the Regional Working Group on Environment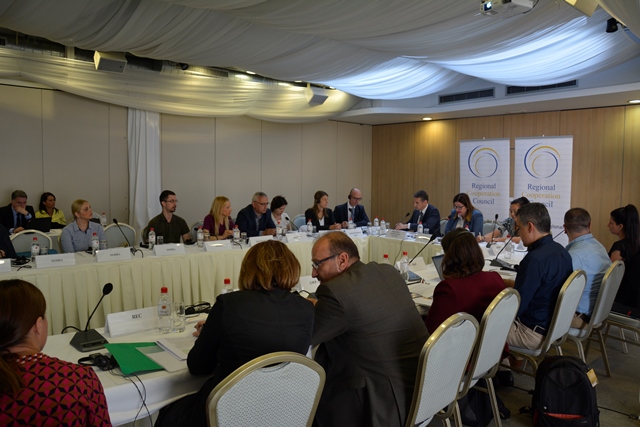 Belgrade – Regional Group on Environment (RWG Env) met for the fifth time in Belgrade today to discuss current environmental challenges and actions forward.
"Today's meeting was one more step towards joining our forces in achieving the common goals of protecting the environment, mitigating negative anthropogenic impact on climate change and increasing our preparedness to unavoidable future challenges within the framework of the SEE 2020 Strategy", said Regional Cooperation Council's (RCC) Mr. Radovan Nikcevic, Expert on Connectivity, stressing that this Working Group becomes an important steering wheel for the environmental matters in the region.
"Our efforts were not in vain. So far our coordination activities resulted in two endorsed and approved regional projects (enhancing environmental performance and climate proofing; and Water-Food-Energy-Nexus), which are expected to bring numerous benefits for the region."
Ms. Stana Bozovic, State Secretary from the Serbian Ministry of Agriculture and Environmental Protection underlined vulnerability of the South East Europe to climate change, which would only increase over time.
"Floods, droughts and other extreme natural disasters intensify and provoke more economic loss. The Paris Agreement offers basis for reduction of adverse effects and ensures green and sustainable development of South East Europe thus making regional cooperation crucial", said Ms. Bozovic adding that complex regional activities need strong guidance and support by the Governments and Ministries in charge of environment in the region.
"The Regional Cooperation Council, through its efforts to streamline activities at regional level and to ensure the economic growth and job creation while considering the environment, with least possible climate impact, represents a reliable partner and a guarantor of regional prosperity. I hope that our mutual effort will make the South East European region an example of stability, providing valuable lessons learnt from the EU accession process."
The meeting gathered representatives from ministries in charge of environment from 5 Western Balkan economies, South East Europe 2020 Strategy (SEE 2020) Regional Dimension Coordinators (Regional Environmental Center for Central and Eastern Europe/REC, GWP-Med and Standing Working Group on Regional Rural Development) as well as other partners such as Austrian Environment Agency, and Austrian Development Agency.
This meeting was a preparatory one for the upcoming ministerial meeting on environment. It was co-organised and co-chaired by the Serbian Ministry of Agriculture and Environmental Protection and the RCC.