Sarajevo Film Festival: Competition for Best Student Film kicks-off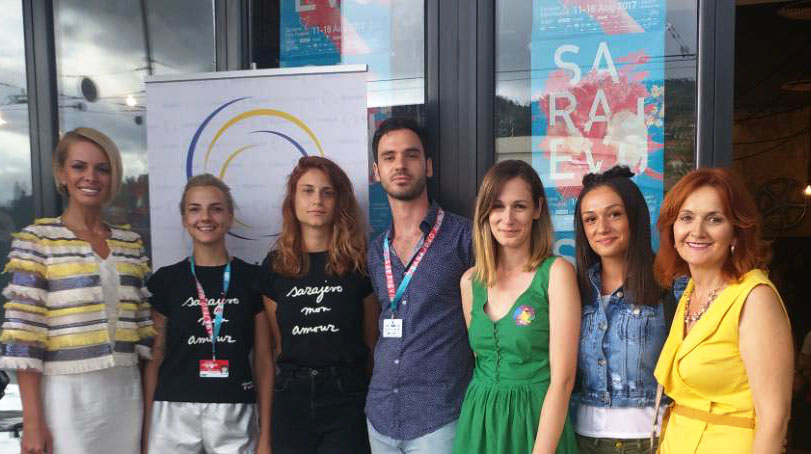 Sarajevo – The competition for the 'Heart of Sarajevo' for the Best Student Film of the 23rd Sarajevo Film Festival (SFF), award under the patronage of the Regional Cooperation Council (RCC), officially kicked off today.
"The Regional Cooperation Council is very happy to be the international partner of the Sarajevo Film Festival this year. We are tremendously satisfied to be the patrons of the 'Heart of Sarajevo' award for the Best Student Film, as we believe it is very important to fuel regional cooperation in the field of youth creativity and art," said Dragana Djurica, RCC's Senior Expert on Competitiveness, at the Competition Programme – Student Film kick-off reception.
"This is the new competition category at the SFF, and the RCC decided to hop on board this year and thus promote the work of students of regional film schools, universities and academies."
The Student Film has been introduced in the competition programme of the SFF for the first time. The programme includes 13 up-to 60 minutes films, made by students from Bosnia and Herzegovina, Serbia, Croatia, Slovenia, Austria and Hungary. More information about the films is available at SFF website http://www.sff.ba/en/page/student-film.
The 23rd edition of SFF started yesterday, 11 August and will last to 18 August 2017. More information about the SFF 2017 is available at www.sff.ba.
Nikica Zvonic, author of the one of competing films from Croatia said she was not even aware of the significance of this newly introduced SFF's competition category for students until she started receiving congratulations for taking part in the Festival. She added that participation in the SFF, which is known as the best festival in the region and the younger brother to the Berlin festival represents a strong wind into the sails of her career. "In only wish to make films and be enabled to do so", concluded Nikica.
In March this year the RCC selected the SFF as the Champion of Regional Cooperation for 2016 and in this spirit it continues supporting the Festival's endeavours in bringing the young regional talent together to showcase their work, promoting the power of cooperation and new artistic thought.