Regional Cooperation Council supports panel discussion of Silent Balkan Majority 'Tourism, culture and sport connect the region'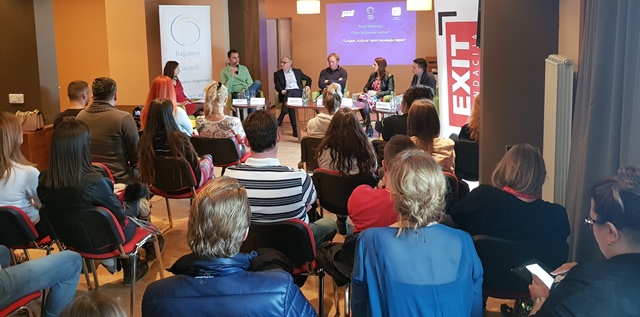 Svilanovic: Tolerant, forward looking people are the future of this region
Jahorina/Sarajevo – Secretary General of the Regional Cooperation Council (RCC) Goran Svilanovic took part in the latest panel discussion of informal citizens' group from the Western Balkans "Silent Balkan Majority titled "Tourism, culture and sports connect the region", as a part of the RCC's support to the newest edition of EXIT Festival – Festival 84, that officially opened on Olympic mountain Jahorina, near Sarajevo today.
"Story of my childhood once upon a time is a one of connection between people, understanding and respect. Love for your own and respect of others' should be our common denominator. On the other hand, competitive spirit of young people, their willingness to learn more, discover and achieve better results, lead the region forward, and by no means should the voices of those be 'silenced' – just contrary, those are the ones we should learn from, to form a positive majority, said Svilanovic during the panel underlining that tolerant and forward looking people, many of whom can be found in the regions' youth are the future.
Founder of EXIT and Festival 84 Dusan Kovacevic firstly expressed satisfaction over Champion of Regional Cooperation Award the festival received from the RCC a day before, saying it meant extremely lot to him as this was the first time that the social dimension and social activism through music of EXIT were recognised.
Kovacevic also said that Jahorina was the best place for the combination of joint effort, tolerance and sports fair play showing that together people can become a centre of the world. This Festival 84 is an additional step forward towards further integration of the region.
Former Yugoslav skiing legend Bojan Krizaj thanked for the opportunity to be a part of the opening of this significant event, saying that he was emotionally attached to Jahorina, where he achieved his greatest success but also a place that became a pillar of his loyalty to the region. One of his successes was that he throughout his life and career he maintained contact with people throughout the region, despite circumstances.
The panel also included President of Assembly of Incubators of social Innovations "MUNJA" Majda Mujanović Babovic and Founder of NGO "Balkanac" Nemanja Cvetković, who during their discussions agreed that the young people are willing to work, and learn from each other, but just needed an incentive and positive direction, in order to start addressing their common problems, looking for solutions and overcoming inherited prejudices.
The panel concluded that young people and children should be thought to understand and not to judge; to travel and make bridges with people, and cooperate because only then they are strong enough to be heard.
RCC's support to the first edition of Festival 84 also involves contribution to the creation of documentary filmed during the Festival from 15-18 March 2018 on relationships between young people in Serbia, Bosnia and Herzegovina and Croatia.
A night before, at the reception marking organisations 10th Anniversary in Sarajevo, RCC awarded EXIT Festival as Champion of Regional Cooperation in 2017 in the region for contribution to the development of regional cooperation by connecting people from the region and the region with the rest of the world in an authentic way, portraying its most beautiful face to the world for almost two decades.
The Festival 84 takes place on Olympic mountain Jahorina, joining the family of other EXIT festivals: Sea Dance in Budva, Montenegro; RE:volution in Timisoara, Romania; and Sea Star in Umag, Croatia, thus putting Bosnia and Herzegovina on the EXIT map. More about the Festival at http://www.festival84.com