Roaming Prices Drastically Drop across Western Balkans: Speak more, surf more – pay less!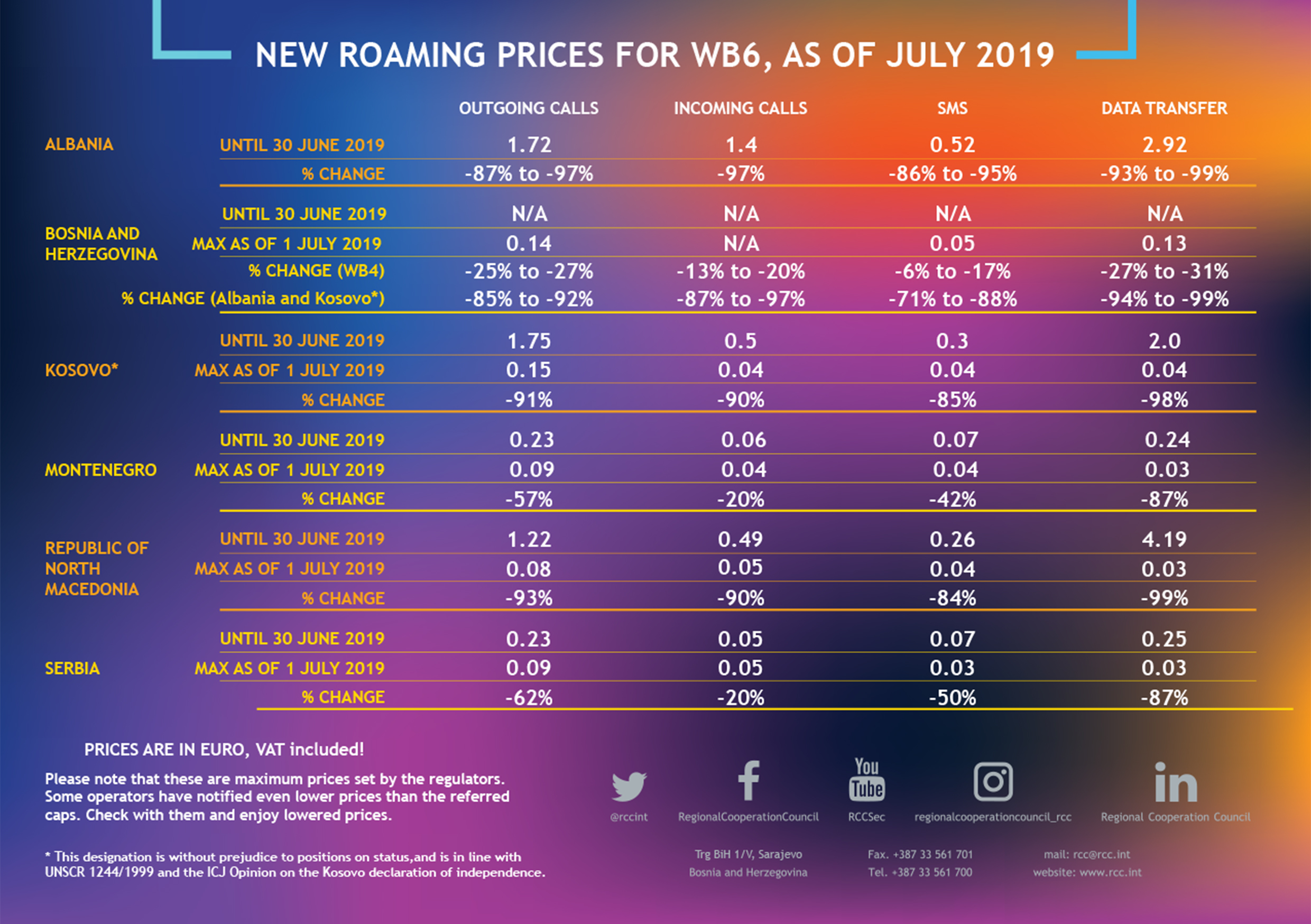 #RoamingFreeWesternBalkans: Drastic cuts of roaming costs in the region begun, leading to lowering roaming costs with EU, and 0 costs in WB in 2021
Sarajevo – The Regional Cooperation Council (RCC) is happy to announce that as of today, roaming prices across the entire Western Balkans (WB) have dropped drastically. Citizens of the WB will be able to speak, surf, SMS much more and pay much less.
On average, prices for outgoing calls dropped by - 65%, and for data transfer - 78%, which are by all means significant reductions, but in some cases the reductions go as far as -99%!
For example, the price for outgoing calls in some cases goes down to 0.08 eurocents, and the price for data transfer 0.03 eurocents, depending on the operator.
Have a look at the chart above comparing the prices across the region until 30 June and as of today, but please note that these are the maximum prices set by the regulators. Some operators have notified even lower prices than the referred caps. Check with your local operator and enjoy lowered prices.
In addition, a new deal with the EU allowing for lower roaming prices between the Western Balkans and the EU is on its way.

The RCC would like to thank Western Balkan Governments, the European Commission and RCC staff for the immense work done to make this change a reality.
*****
We keep our promises: The original Regional Roaming Agreement (RRA) brokered by the RCC in 2014 included Bosnia and Herzegovina, Montenegro, Republic of North Macedonia and Serbia, and amongst them the roaming costs have already been reduced since. This year, Albania and Kosovo* joined the deal by signing the new RRA, making the Western Balkans all-inclusive roaming zone, heading towards the zero roaming costs across the region, modelled on the European Union's (EU) Roam Like At Home (RLAH) principle. On top of that, the EU committed to start negotiation reduction of roaming costs between the WB and the EU. The RRA demonstrated that regional cooperation and Europe deliver!
*This designation is without prejudice to positions on status, and is in line with UNSCR 1244/1999 and the ICJ Opinion on the Kosovo declaration of independence.