WBIF awards €8.3 million worth of grants financed by the EU for Western Balkans' Digital, Environment and Social projects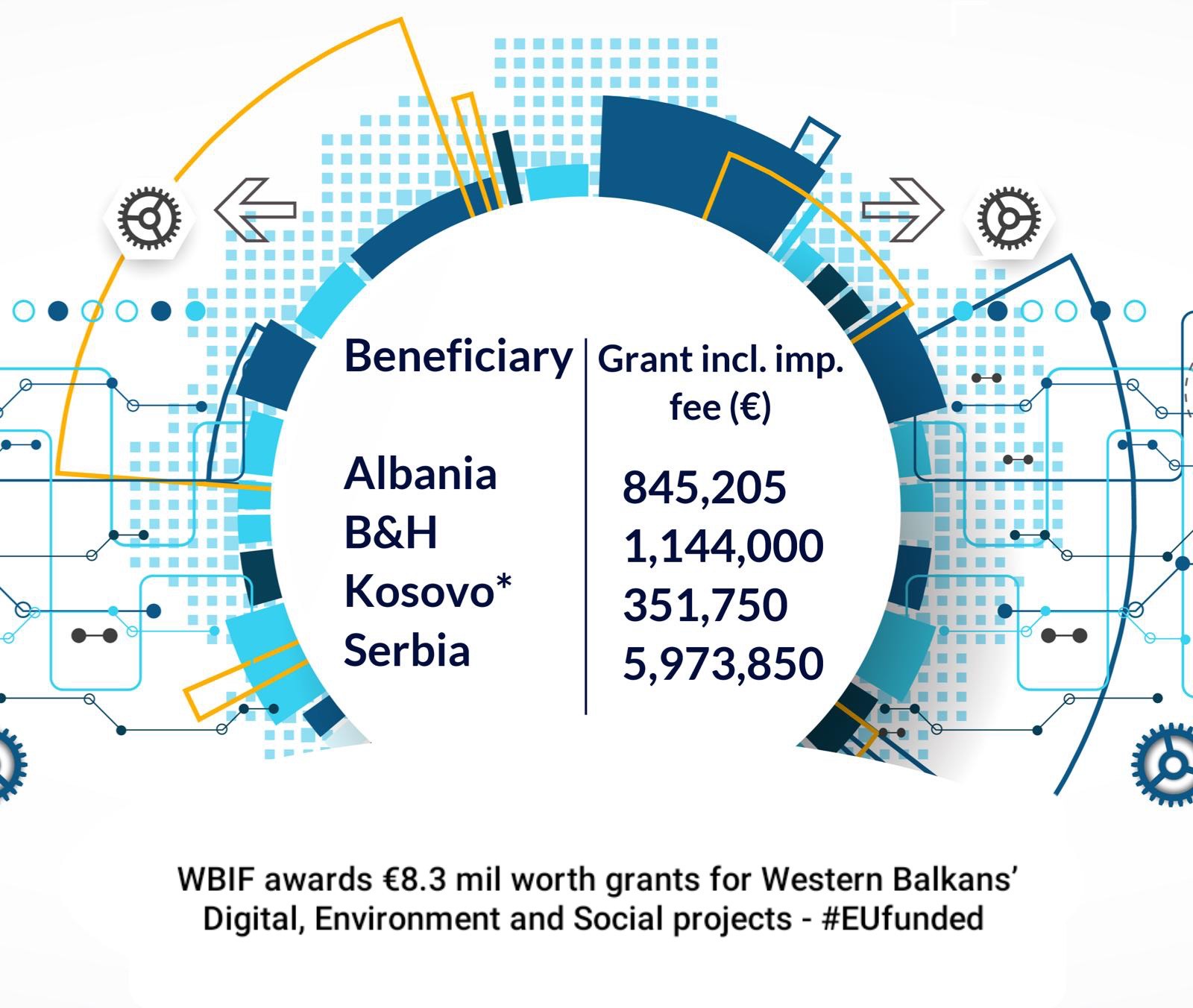 Sarajevo/Brussels – Good news for the region come from the Brussels today as Western Balkans Investment Framework (WBIF) Steering Committee approved eight grant applications for technical assistance from Albania, Bosnia and Herzegovina, Kosovo* and Serbia, at its session held online today. The projects 8,3 million EUR worth, financed by the European Union, covering digital, environment and social sectors: Albania: 3 projects, all related to digital infrastructure; grants 0.85 m EUR; Bosnia and Herzegovina: 2 projects, 1 in the environment sector, 1 in the social sector; grants 1.14 m EUR; Kosovo*: 1 project in digital; grants 0.35 m EUR; and Serbia: 2 projects, 1 in the environment, 1 in the social sector; grants 5.97 m EUR.
Broadband atlas, smart cities and smart villages, digital connectivity, and high performance computing infrastructure – these are the areas covered by the approved projects in the field of digital and they confirm dedication of the region digital integration and connectivity. The future is in digital integration – of local communities, cities, villages, countries, regions…global connectivity. For our region, this is a valuable step up in this direction as these applications show that finally this fact was acknowledged and acted upon.
The world is going digital and the region should keep up with it too, as the Regional Cooperation Council (RCC)'s Balkan Barometer findings confirm: 78% of managers in the region think that digital skills are very important for doing businesses. But besides, we also welcome the remaining approved technical assistance grants for the environment and social sectors. These are also key fields requiring major improvements in the region.
Digital integration of the Western Balkans is one of the major components around which the Multi-Annual Action Plan for Regional Economic Area (MAP REA) 2021-2024 is structured. The new REA that is being prepared by the RCC together with the economies from the region is expected to be endorsed this autumn, and it will have a much more ambitious digital component than before, focusing on concrete activities in this area.
***
The Western Balkans Investment Framework (WBIF) is a regional blending facility supporting EU enlargement and socio-economic development in Albania, Bosnia and Herzegovina, Kosovo*, Montenegro, North Macedonia and Serbia.
The WBIF was established in 2009 as a joint initiative of the European Commission, the Council of Europe Development Bank, the European Bank for Reconstruction and Development, the European Investment Bank, and several bilateral donors. The World Bank Group, the KfW Development Bank and the AFD (Agence Française de Développement) subsequently joined the Framework. In December 2018, the AFD became a participating organisation in the WBIF.
*This designation is without prejudice to positions on status, and is in line with UNSCR 1244/1999 and the ICJ Opinion on the Kosovo declaration of independence.