Bregu proposes creation of 'Digital Identity' system for Western Balkan citizens, modelled on the EU one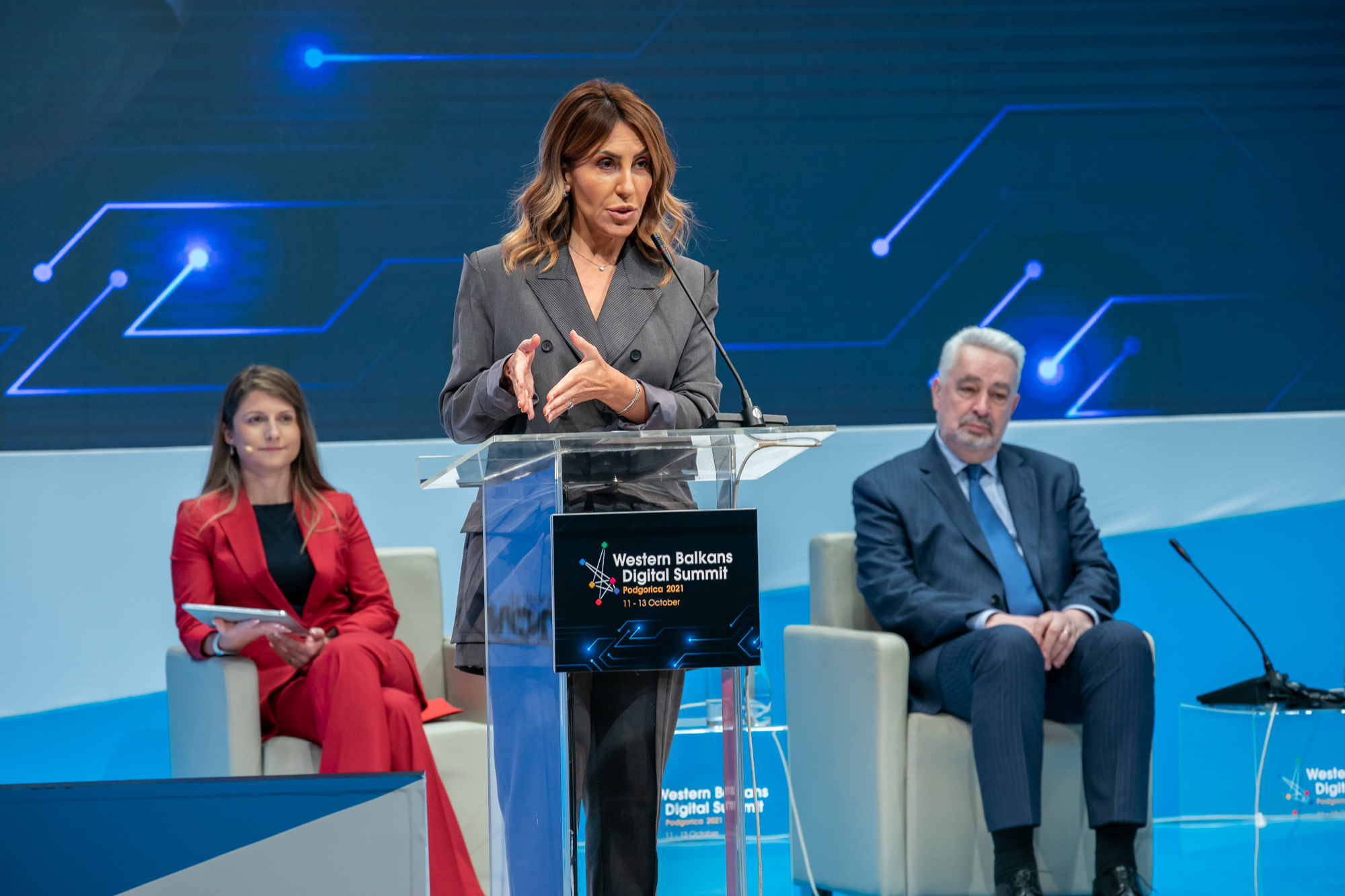 RCC Secretary General at the closing of the IV Western Balkans Digital Summit
Podgorica – "We are racing to reach high standards of EU MS. Despite trying to run with the same speed as EU MS, we started our race later and hence we can never reach EU unless "phasing in" in EU policies is duly implemented," said Majlinda Bregu, Secretary General of the Regional Cooperation Council (RCC) at the closing of the 4th Digital Summit of the Western Balkans (WBDS) in Podgorica today.
"I am using this opportunity to propose to you, ministers responsible for digital agenda, to start a very demanding but beneficial process of creating Digital Identity with the objective to offer Western Balkan (WB) citizens and businesses digital wallets that will be able to link their national digital identities with proof of other personal attributes like driving license, diplomas, bank account, etc. EU launched this process months ago. Data is power and some countries are using digital infrastructure to empower people by data. Enabling citizens to have a trustworthy digital identity is one way to bring them to the formal economy. I believe WB economies may seek opportunities to replicate this and we at the RCC are ready to support with any regional action needed," added Bregu.
The WB digital agenda RCC is supporting contains multitude of regional actions across all Common Regional Market Action Plan (CRM) components such as the WB Digital Skills and Job Coalition, implementation of Memorandum of Understanding on 5G Roadmap, work toward faster, cheaper and easier cross-border transactions, expedite free flow of data – fifth freedom of common market, etc.
"WB has changed a lot. EU is changing day by day. We come face to face with the question: is regional cooperation enough to make our economies and lives change for better?! You know the answer and you can name it. It is not enough. It cannot be successful without the process of Europeanisation. But we should also remind all that faithfulness to our European challenge is the desire to talk, to make jokes, work together, generate actions and achieve results. This can be our truth, our success. No losers, only winners in this," concluded Bregu.
RCC Secretary General took part in the closing high-level panel of the WBDS, together with Olivér Várhelyi, EU Enlargement Commissioner, Natasha Azzopardi-Muscat, Director of Country Health Systems and Policies at the WHO Regional Office for Europe, Zdravko Krivokapić, Montenegrin Prime Minister and Tamara Srzentić, Montenegrin Minister of Public Administration, Digital Society and Media.
The 4th Western Balkans Digital Summit has been hosted by the Government of Montenegro.
The RCC supported this biggest regional digital event the fourth time in a row. WBDS is taking place annually in the framework of the Berlin Process and the Common Regional Market Agenda for the Western Balkans. The first ever Western Balkans Digital Summit was held in Skopje in April 2018, while the second WBDS took place in Belgrade in 2019 and the third in Tirana last year.
More info on the summit
More info on the Balkathon 2.0 'made in Western Balkans' products presented at the WBDS