RCC hosts 6th meeting on implementation of Western Balkans Common Regional Market and Green Agenda Bregu: Enhanced regional cooperation and clear enlargement prospect for the region are vital to overcome challenges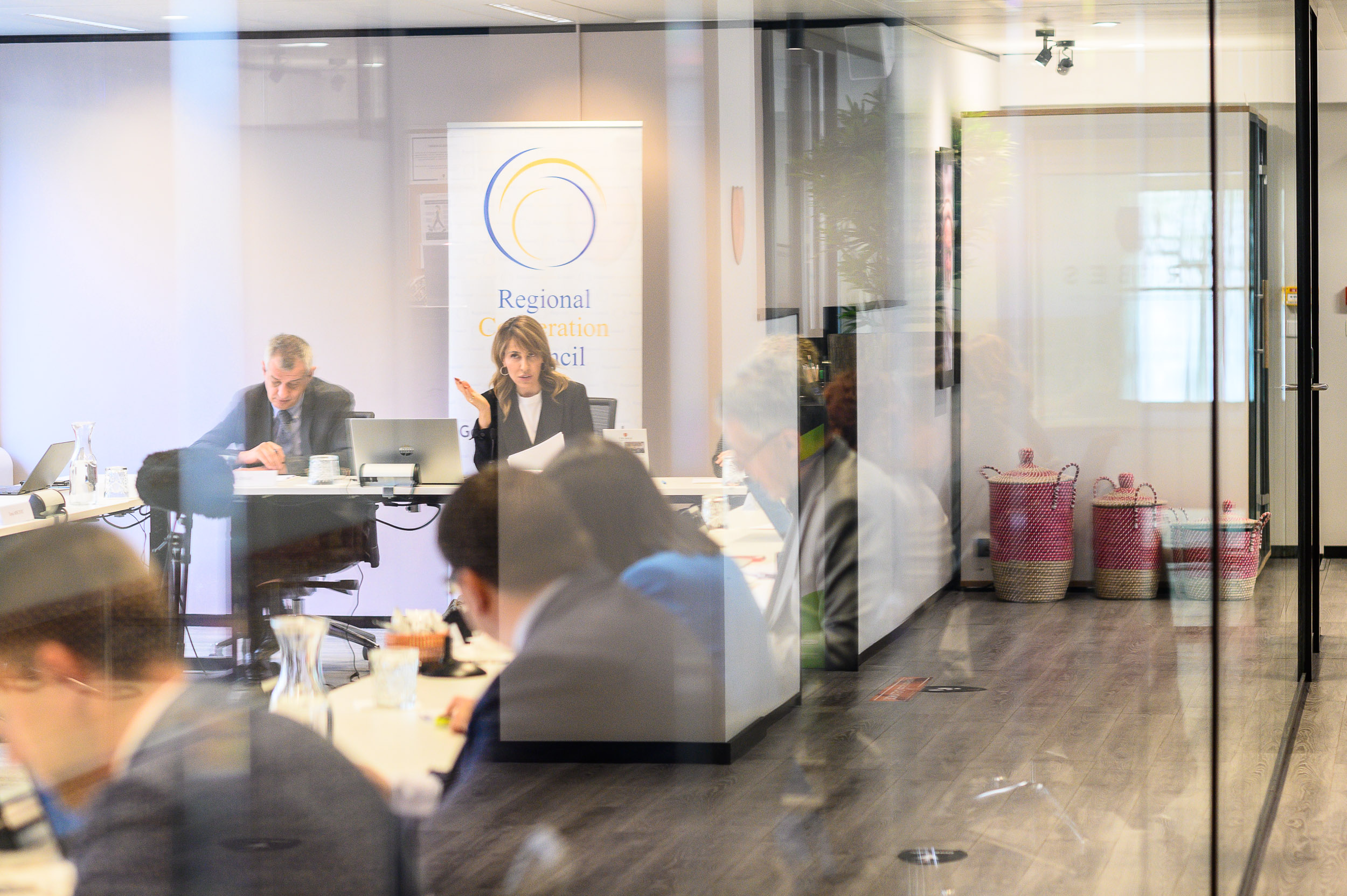 Balkan Barometer 2022: 76% of WB citizens agree that regional cooperation can contribute to improving political, economic or security situation in their economy
Brussels/Sarajevo – "The war in Ukraine will affect economic growth in the region. Although share of economic output directly tied to Russia and Ukraine is relatively small for the Western Balkans as a whole, the economic ties on essential sectors such as energy and agriculture have exposed the region vulnerability and raised the inflation. The escalation of conflict is already manifesting itself through higher oil and gas prices, high inflation, lack of raw materials (wheat, corn, fertiliser, animal feed), disruptions in global value chains, you name it," said Secretary General of the Regional Cooperation Council (RCC), Majlinda BREGU, opening the 6th Meeting of Sherpas on Common Regional Market (CRM) and Western Balkans Green Agenda (WBGA), taking place in Brussels today.
"This new crisis might widen the economic and development gap between the EU and WB. Enhanced regional cooperation and clear enlargement prospect of the region are the name of the game to overcome the actual challenges. We will not be a competitive region unless we enhance efforts toward digitalisation, green transition and dismantling barriers within WB. On the other hand, a clear prospect of coming closer to the EU is needed. 'The doors are open' narrative will only be piecemeal if not joined by a call for intensified credible path to EU membership, as well as phasing-in to EU policies, programmes and the EU market as part of the accession process," added Bregu.
Beside RCC Secretary General, the opening remarks were delivered by Emir ĐIKIĆ, Director of CEFTA Secretariat, and Michela MATUELLA, Acting Director at European Commission's DG NEAR. The goal of the meeting is to provide an overall assessment of the implementation progress of CRM and WBGA achieved throughout 2021, also focusing on implementation of agreed deliverables for 2022, in line with the priority action list. The participants of the meeting, PM Sherpas, shared their insights into the process and provided strategic guidance on agreed deliverables and ways forward.
"According to the fresh data from our still unpublished Balkan Barometer 2022 – 76% of WB citizens agree that regional cooperation can contribute to improving political, economic or security situation in their economy. We see a negative trend for the first time on the support for EU integration. The percentage of WB citizens that consider EU membership to be a good thing has slightly decreased compared to the last year. In 2021 the support was 62% whereas this year it is 60%. I will leave it to you to interpret these data," concluded Bregu.
More information on the Common Regional Market is available at https://www.rcc.int/pages/143/common-regional-market , and on WB Green Agenda at https://www.rcc.int/docs/596/action-plan-for-the-implementation-of-the-sofia-declaration-on-the-green-agenda-for-the-western-balkans-2021-2030.