RCC to Present 2022 Balkan Barometer & SecuriMeter in Brussels on Friday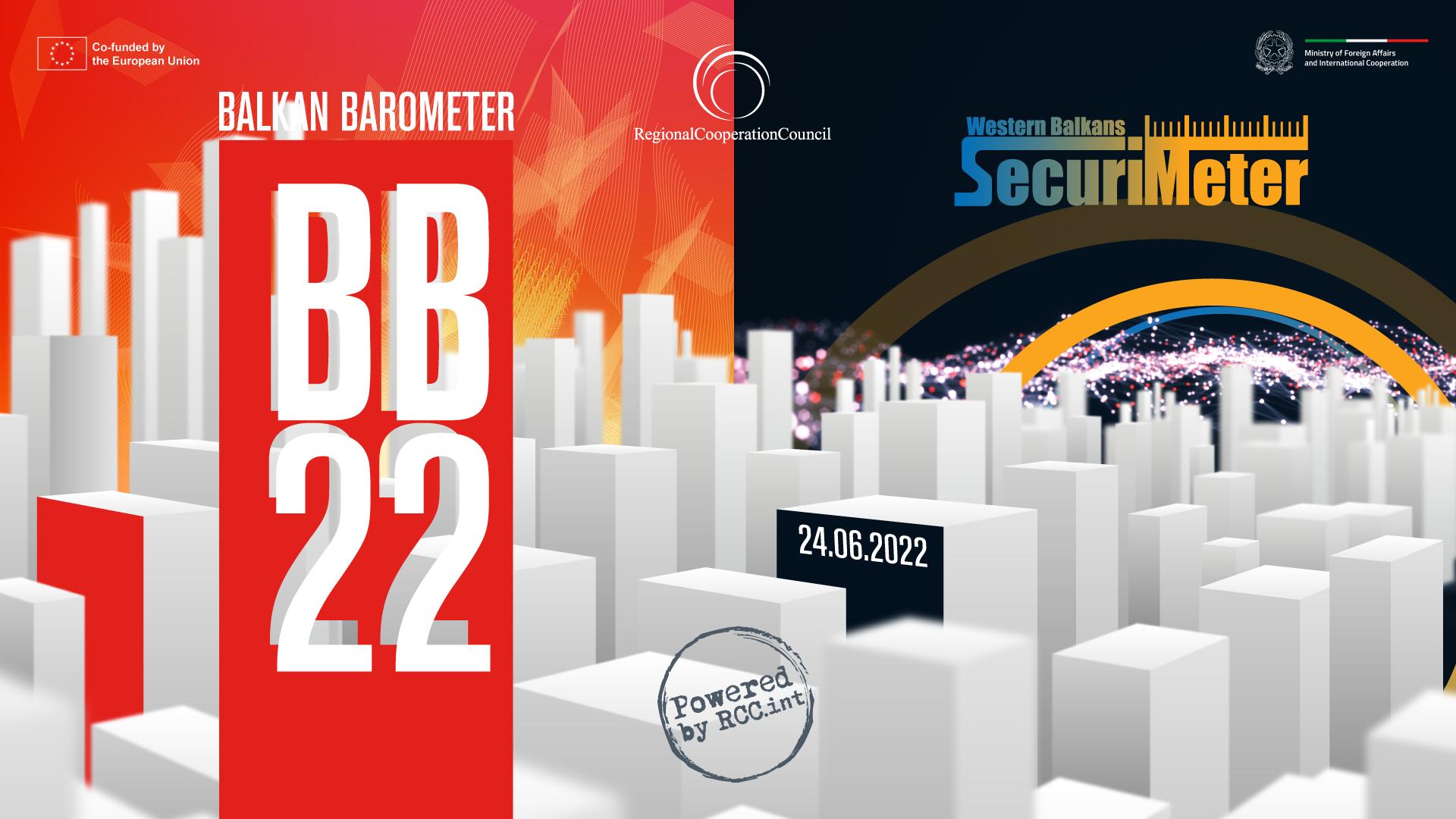 Brussels/Sarajevo – The Regional Cooperation Council (RCC) is to present the 2022 editions of Balkan Barometer and SecuriMeter, on Friday, 24 June 2022, starting at 10:00, in Brussels. This is the 8th edition of Balkan Barometer, and the second one for Western Balkans SecuriMeter. The entire presentation will be streamed live at RCC's YouTube and Facebook.
Data to be revealed this Friday show how perceptions of our citizens of certain topics changed with the dramatic changes that hit Europe beginning of this year. From war in Ukraine, and recovery from the pandemic to the onslaught of huge inflation and global economic crisis.
Balkan Barometer and SecuriMeter are annual public and business opinion surveys commissioned by the RCC, which examine the perceptions and expectations of Western Balkan citizens and businesses towards a variety of thematic areas, such as the EU integration and regional cooperation, digitalisation, employment, security, organised crime, migrants, online radicalisation, etc.
The introductory remarks will be delivered by Majlinda Bregu, RCC Secretary General, Alessandra Viezzer, Deputy Head of Unit, DG NEAR, European Commission, Marie Delile, Counsellor in charge of the Balkans at the Permanent Representation of France to the EU, and Andrea Cascone, Adriatic and Western Balkans Director at the Ministry of Foreign Affairs and International Cooperation of Italy.
Introductory remarks will be followed by a panel discussion on 'Rethinking (in)security in the Western Balkans: Moving forward for a brighter future'. Panellists are Gentian Elezi, from the Albanian Centre for Competitiveness and International Trade; Dimitar Bechev, Visiting Scholar at Carnegie Europe, Valbona Zeneli, Chair of the Strategic Initiatives Department at George C. Marshall European Centre for Security Studies; and Dejan Jović, Professor at the Faculty of Political Science at the University of Zagreb. The moderator of the event is Radu Magdin, CEO at Smartlink Communications SRL.
Last years' Balkan Barometer and SecuriMeter data can be found at rcc.int/balkanbarometer & rcc.int/securimeter
***
Balkan Barometer is commissioned by the RCC and financed by the European Union. It is conducted each year since 2014 by an independent agency among more than 6,000 citizens and 1,200 companies throughout the region. The Balkan Barometer is firmly established as a reliable source of regional data widely employed and referenced by media, business, civil society and decision-makers alike.
The Western Balkans SecuriMeter is a public opinion survey on security issues conducted among more than 6,000 citizens of the Western Balkans as a venture of the Regional Cooperation Council, finance by the government of Italy.