Bregu: Having an environment that supports innovation and creativity helps our democracies to be stronger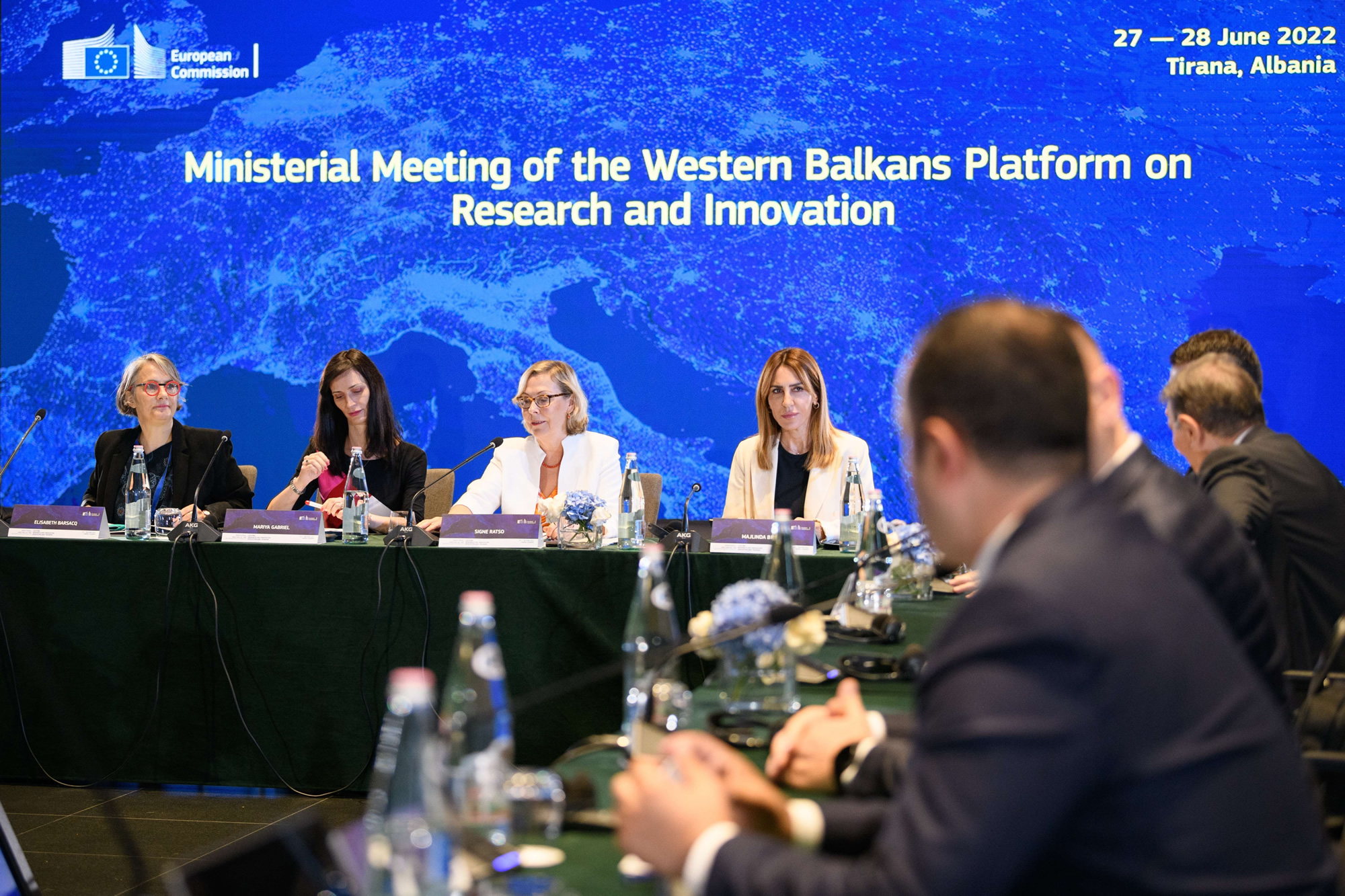 RCC Secretary General takes part at the Ministerial Meeting of the Western Balkans Platform on Research and Innovation
Tirana – "There is a political decision on when our economies will become full EU member states, but there is also a responsibility all of us carry on how to make our economies closer to the European standards present here in this region. So, for all of us who share a sense of discomfort after the last week's EU summit, I have to say there are deep and concrete figures and facts that we should remind ourselves of. 61% of Foreign Direct Investment (FDI) in the Western Balkans comes from the European Union. It means those FDIs are transforming the knowledge in this region and bringing together some new schemes of organisation and teamwork, bringing best technologies, and by being present here we are building the right partnerships," said Majlinda Bregu, Secretary General of the Regional Cooperation Council (RCC), at the Ministerial Meeting of the Western Balkans Platform on Research and Innovation, organised by the European Commission, in Tirana today.
The RCC Secretary General took part at the Round Table Discussion on Research and Innovation "Academia-Business cooperation for synergies in the knowledge triangle", together with Ronald De Bruin, Director of COST Association, and Signe Ratso, Deputy-Director General, EC DG for Research and Innovation as moderator.
"Having an environment that supports innovation and creativity helps our democracies to be stronger. It is not by chance that the most democratic economies in the world are the ones that are the most innovative. Therefore, innovation, cooperation and entrepreneurship are very much needed. Innovations are a potential game changer in development of entrepreneurs in our region, especially women entrepreneurs, enabling them not to be sidelined on the employment market. Our role as the RCC is to bring our region closer to the innovation and research area and its existing opportunities," added Bregu.
The RCC introduced the WB Innovation & Research Platform earlier this year to facilitate a free flow of information between our partners and to boost the uptake of existing opportunities. The Platform promotes synergies between the key stakeholders, enhances cooperation in this field and aims to prevent duplication of efforts.
"There is a sense why the regions are coming together in the world, because for the region such as the Western Balkans, coming together means increasing the weight we have in the global market. Markets are changing all the time and are prone to innovations and solutions. If we are not going to cooperate strongly with each other it's going to be harder to promote our markets and attract FDI," concluded Bregu.
Last night the RCC presented the winners of the first Butterfly Innovation Award competition we launched in the spring. Six best ideas have been awarded with an opportunity to promote their solution through the RCC's network of contacts and media presence, technical mentorship support and a chance to meet potential investors, including 5,000 EUR support. More info https://www.rcc.int/news/773/bregu-we-hope-butterfly-innovation-award-will-shine-a-light-on-the-regional-innovation-community-and-its-undiscovered-potential
Earlier on Monday the RCC Secretary General met with Mariya Gabriel, EU Commissioner for Innovation, Research, Culture, Education and Youth, to discuss further cooperation opportunities for the Western Balkans when it comes to research and innovation.