RCC Patron of the Sarajevo Film Festival's award for the Best Student Film 6th time in a row Croatians Klara Sovagovic and Josip Lukic gets Heart of Sarajevo for the Best Student Film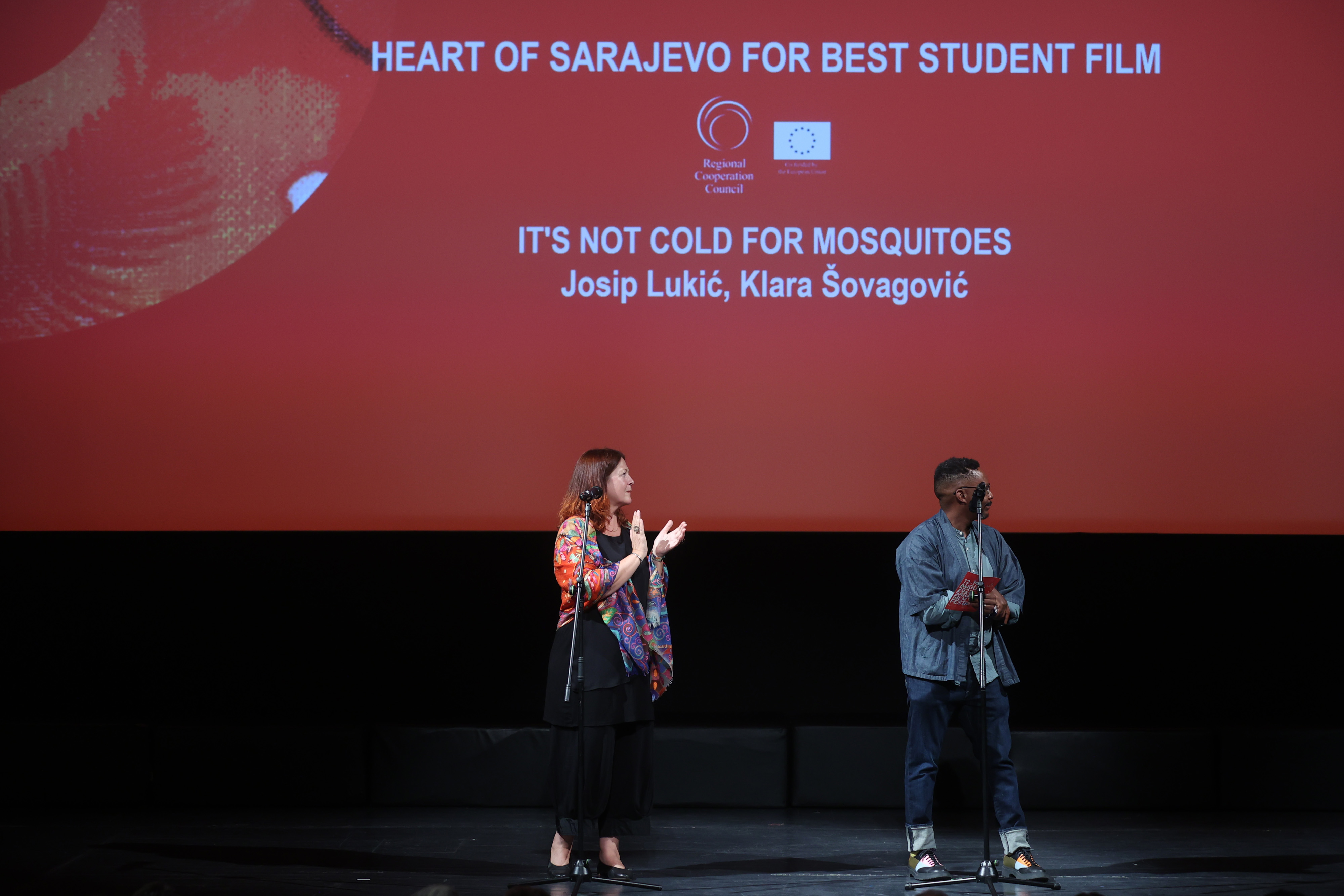 Sarajevo - Klara Sovagovic and Josip Lukic, young Croatian directors, won Heart of Sarajevo for the Best Student Film with a movie It's Not Cold for Mosquitoes, at the 28th Sarajevo Film Festival. This award, whose patron is the Regional Cooperation Council (RCC), has been presented at the SFF closing ceremony last night in Sarajevo.

We congratulate both, Klara and Josip, from our hearts with wishes of many future successes in their careers. We haven't met them last night because they could not make it to the closing ceremony but we are sure we'll be hearing more of them in the years to come and meet them perhaps for another Heart of Sarajevo at some future festival.

The RCC sponsors the Sarajevo Film Festival's award Heart of Sarajevo for the Best Student Film since its introduction in 2017. Previous laureates of the award are: Alexandru Mironescu, Romania, "Summer Planning" (2021), Zeynep Dilan Süren, Turkey, "The Great Istanbul Depression" (2020); Nikola Stojanovic, Serbia, "Sherbet" (2019); Hajni Kis, Hungary, "Last call" (2018), Neven Samardzic, Bosnia and Herzegovina, "Clean" (2017).

"Bravo Klara and Josip, I hope this is just the sweetest beginning of many successes to come in your future career. We in the RCC are pleased to have a small part in helping at the beginning of your career. Investing in our youth is very important to our organisation and to all of us personally. The film industry is a growing one. Over the years, the recorded contribution of creative sectors to the GDP of our region ranged between 0.5 and 5.72% and engaged up to 4.75% of the total employed population. We also know that cultural industries have been growing because the employment in the arts, entertainment and recreation sector grew even up to 67.8%. Our region should capitalise on this. No single national cinematography fund can cover all costs of a feature movie, let alone the fact that no single economy has an entire ecosystem relevant for movie making. We have all the ingredients necessary for the creation of the Regional Film Fund except one and with the political commitment from the governments, we could facilitate it through the RCC so as to follow the model of the Nordic Film and TV Fund. With this, we could create a creative industry revolution that would contribute to better cultural exchange and economic growth. One euro invested in audio-visual content brings back multiplied revenue," said RCC Secretary General Majlinda Bregu.

Sarajevo Film Festival (SFF) became the leading film festival in the region, recognised by both film professionals and the wider audience. It is an international film festival with a special focus on the region of South East Europe, shining an international spotlight on films, talent and future projects from the region. High quality programming, a strong industry segment, an educational and networking platform for young filmmakers and thus generated presence of the international film industry, film authors and media representatives alongside a paying audience of over 100,000, confirm its status as the leading film festival in the region.

Western Balkans Youth Lab (WBYL) is a three-year EU funded and RCC implemented project aiming to provide opportunities for youth to participate in decision-making. The project is covering Western Balkans economies in which youth constitutes 21.27% of the overall population. WBYL strives to create a longer-term structured regional dialogue between youth organisations and national administrations focused on jointly developing policies which will increase youth participation in decision-making, to improve the overall socio-economic environment for and mobility of youth in the Western Balkans economies through different types of activities.
***

Heart of Sarajevo for the Best Student Film, championed by RCC, aims at promoting films made by students from regional film schools, faculties and art academies. With this additional section of the Competition Programme, Sarajevo Film Festival provides a new platform for the training of young, talented and future film professionals at the very beginning of their careers. The programme focuses on feature films, documentaries and animated films up to 60 minutes that were created within the teaching process of regional film schools. (Source: SFF)