Bregu: 12 teams consisting of region's youngsters to present their products at Balkathon finale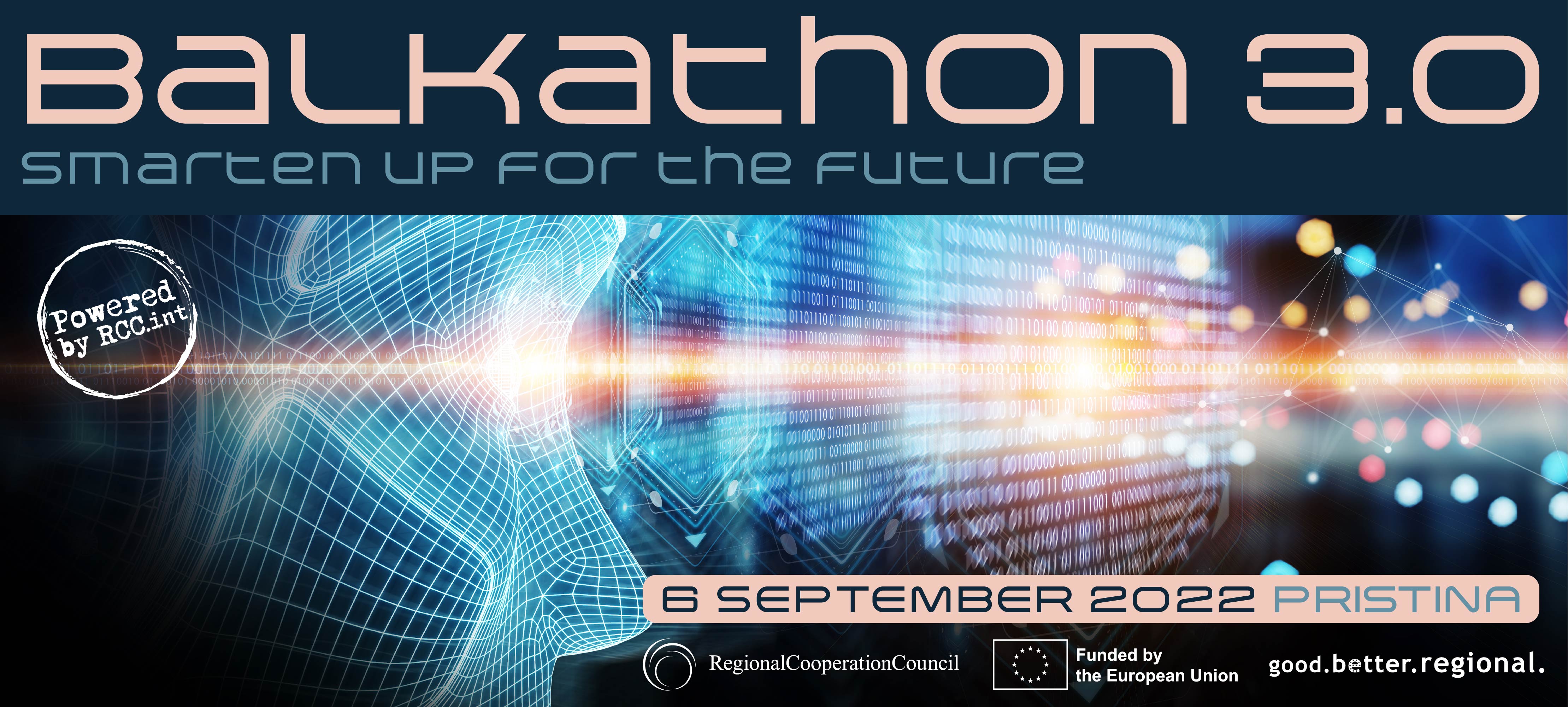 Pristina to host BALKHATHON 3.0 award ceremony: Six Best Teams to be Awarded for their Digital Solutions
Sarajevo – The finale of the third Western Balkans' online competition for the best digital solutions, BALKATHON 3.0 is to take place on Tuesday, 6 September 2022, at the event starting at 10.00 hrs in Pristina, and live on the Regional Cooperation Council (RCC) YouTube channel and Facebook page.
The Balkathon 3.0 finale will be opened by Majlinda Bregu, RCC Secretary General, followed by the presentation of 12 finalists consisting of teams of young people from our region, a panel discussion on digital transformation during which the expert jury will be voting for the best teams, and finally the award ceremony where the six most successful solution will be pronounced winners and receive their awards.
"Every notable historical era will have its own Faust" said Kierkeegard. Truth is we are all living in a faustian bind. Internet changed our lives. Every 11 seconds consumers or businesses suffered ransomware attacks in 2021. Projections say in 2031 it will be every 2 seconds. We had our share of this sensation last month when our Instagram account was hacked. It's not easy fighting digital criminals. Yet, the entire world, our region included, is going more digital by the day. It's no surprise. The global digital transformation market size was evaluated at USD 608.72 billion in 2021 and is expected to expand at a compound annual growth rate of 23.1% from 2022 to 2030. Six billion people are on the internet - 75% of entire world population. In 2030 it will be 90%. Regardless of the dangers and all unknown that is ahead of us there is no other way but forward. More resilient, more innovative, more daring, faster, smarter, more digital. From an idea born during the pandemic, 9 new made in Western Balkans digital products were born into this world in the past 2 years, making the RCC a proud aunt, because we didn't make this products but helped young people from across our region to do so. In two days in Pristina 12 teams consisting of our youngsters will present their products at Balkathon finale. New, innovative, different digital solutions to smarten up our region for the future. The best 6 are going to win and hopefully take our and global markets as well by storm. Don't miss this. Nerdy is exciting. We certainly are looking forward to the next week and may the best win," said RCC Secretary General, Majlinda Bregu.

This third edition of the competition, organised by the RCC since 2020, attracted 60 team applications under the following topics: eCommerce, Agriculture, Renewable/sustainable Energy, Transportation & Logistics, and miscellaneous, including medtech/biotech/healthtech, blockchain and cybersecurity, entertainment and gaming, clean and green technologies. Out of 60 ideas, 12 teams will present their solutions on Tuesday to the expert jury from the Western Balkans which will vote for the best. The best six teams will be awarded prizes in the amount of EUR 10,000 each. The six winning teams will get an opportunity to implement their idea in the Western Balkans.

Last year, the RCC awarded six teams from all Western Balkan economies for their best innovative solutions that have used the financial support given to fully develop their digital solutions. Check out last year's winners.

We invite you to follow the event either live in Pristina, at the Klan Arena on 6 September 2022 starting at 10.00, or livestream at RCC YouTube and Facebook.
Agenda Balkathon 3.0 "Smarten up for the future"
6 September 2022
Venue: Klan Arena, Pristina
Moderators: Ilir Deda & Mimika Dobroshi
10:00 – 10:15 Welcome address and opening ceremony
10:15 – 10:30 Presentation of Balkathon 3.0
10:30 – 11:25 Finalists presentations
11:25 – 11:40 Break
11:40 – 12:45 Finalists presentations
12:45 – 13:45 Panel discussion "Create a winning market entry approach"
13:45 - 14:15 The winner announcement and Awarding Ceremony