Berlin Process: Regional Energy Ministers and Partners Gather at Roundtable Organized by the German Government Bregu: Keeping the Green Agenda implementation torch lit is difficult, but there are no U-turns in a climate change-vulnerable region like ours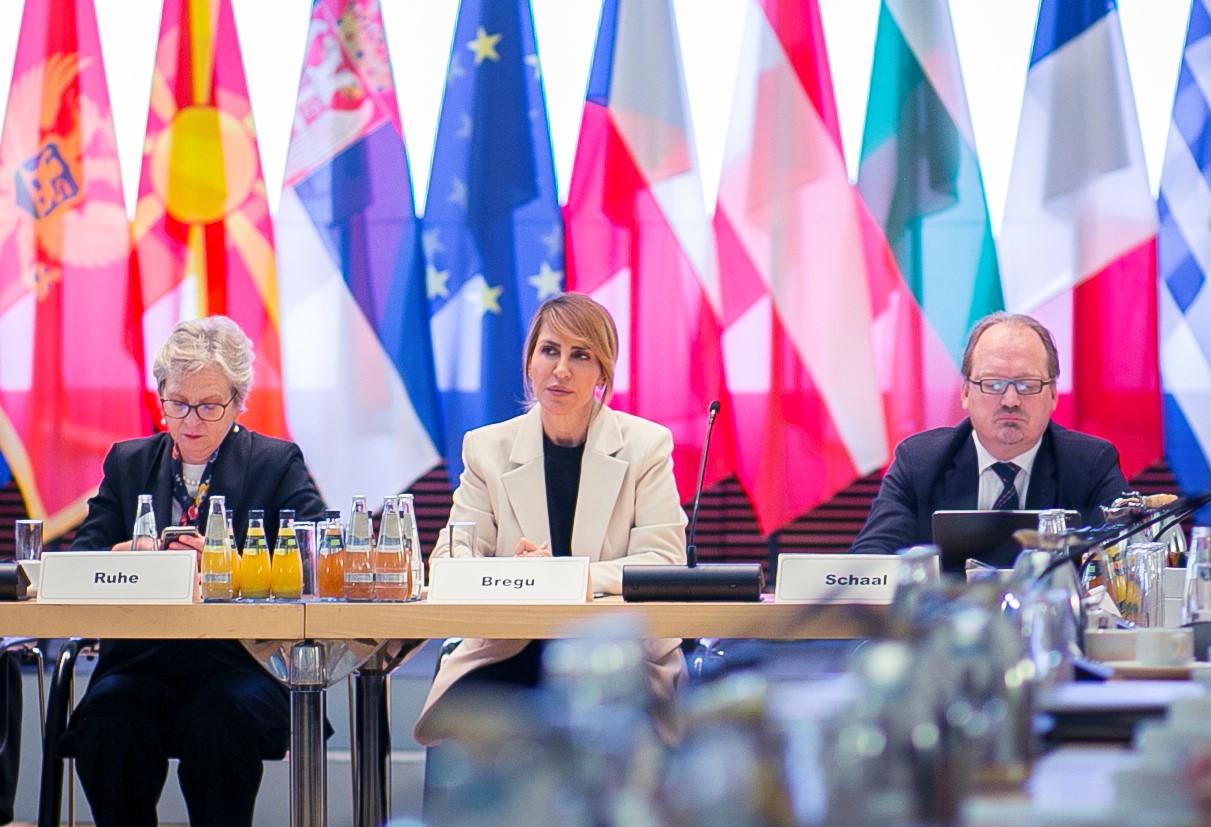 Berlin/Sarajevo – "Keeping the torch lit on the implementation of the Green Agenda for the Western Balkans that was developed in times of stability was a hellishly difficult task in these times of adversity. It is clearly overshadowed by the impact of the war and the pan-European energy price surge. There will be no quick fixes and silver bullets for this colossal challenge ahead of us. But what we know for sure is that there can be no U-turn, nor turning back the clock on sustainable and green transition, especially in such a climate change-vulnerable region like ours," said Majlinda Bregu, Secretary General of the Regional Cooperation Council (RCC), at the Western Balkans (WB) Energy Ministers Roundtable within the Berlin Process organised by the German Federal Ministry for Economic Affairs and Climate Action in Berlin today.
Participants of the meeting agree that the energy crisis can only be overcome and the energy transition implemented through deeper regional cooperation, rethinking energy security and diversification of the supply, but also intensifying cooperation in regional electricity market integration, and expansion of renewable energies. Germany expressed readiness to support the regional energy transition in the Western Balkans through an energy partnership with all WB6.
"The solutions lie in a regional and a European approach, solidarity, cutting reliance on energy imports and fossil fuels through utilizing vast renewable energy potential. A European-level market intervention! Every one of us has a role to play on the path to a green future. Our region suffers from long-term under-investment in the energy system. The change will need major finances and time. It will be years before we can diversify! Energy and green transition have a human face and strong support measures are needed for our most vulnerable, struggling businesses, our coal-dependent regions," added Bregu.
Western Balkans' fiscal support measures in response to the increase in energy prices are estimated to exceed 1.5 % of the GDP from mid-2019 to mid-2022. Most of this support reflects price controls and subsidies rather than direct support. The WB has high rates of energy poverty compared to the EU. As a result, the energy crisis has contributed to increased household expenditures for energy and other products. The average household in the region spends 7-10% of its total budget on energy. This disproportionately weakens low-income households - those affected by energy poverty. Gas prices have risen by more than 10 times compared to before the pandemic while the purchasing power in our region, a region that has only 1/3 of the EU's GDP per capita, is simply powerless against such hikes!
"Important avenues lie in greening our transport and mobility, investing more in energy efficiency, retrofitting brown industries, and building upon the EU renovation wave to renovate schools, hospitals, and buildings. In greening our jobs, fiscal systems and investments. We, in the RCC, will continue actively to keep the Green Agenda torch alight despite the grave war and energy crisis context," concluded Bregu.
The RCC Secretary General took part at the Roundtable alongside Dr. Robert Habeck, Federal Minister for Economic Affairs and Climate Action, Dr. Franziska Brantner, Parliamentary State Secretary at the Federal Ministry for Economic Affairs and Climate Action, Jochen Flasbarth, State Secretary, Federal Ministry for Economic Cooperation and Development, Kostas Skrekas, Minister of the Environment and Energy of Greece, Manuel Sarrazin, Federal Government Special Representative for the Countries of the Western Balkans, Belinda Balluku, Deputy Prime Minister and Minister of Infrastructure and Energy of Albania, Artane Rizvanolli, Minister of Economy of Kosovo*, Ervin Ibrahimovic, Deputy Prime Minister and Minister of Capital Investments of Montenegro, Zorana Mihajlovic, Deputy Prime Minister and Minister of Mining and Energy of Serbia, Razmena Cekic-Durovic, State Secretary at the Ministry of Economy of North Macedonia, Jadranka Winbow Negodić, Ambassador of Bosnia and Herzegovina to Germany and other valuable regional and international partners.
More info on the Berlin Process
Full speech by the RCC Secretary General
More info on the Green Agenda for the Western Balkans
* This designation is without prejudice to positions on status, and is in line with UNSCR 1244/1999 and the ICJ Opinion on the Kosovo declaration of independence.