Bregu: Our region deserves a re-energised enlargement process and membership advantages in advance of full accession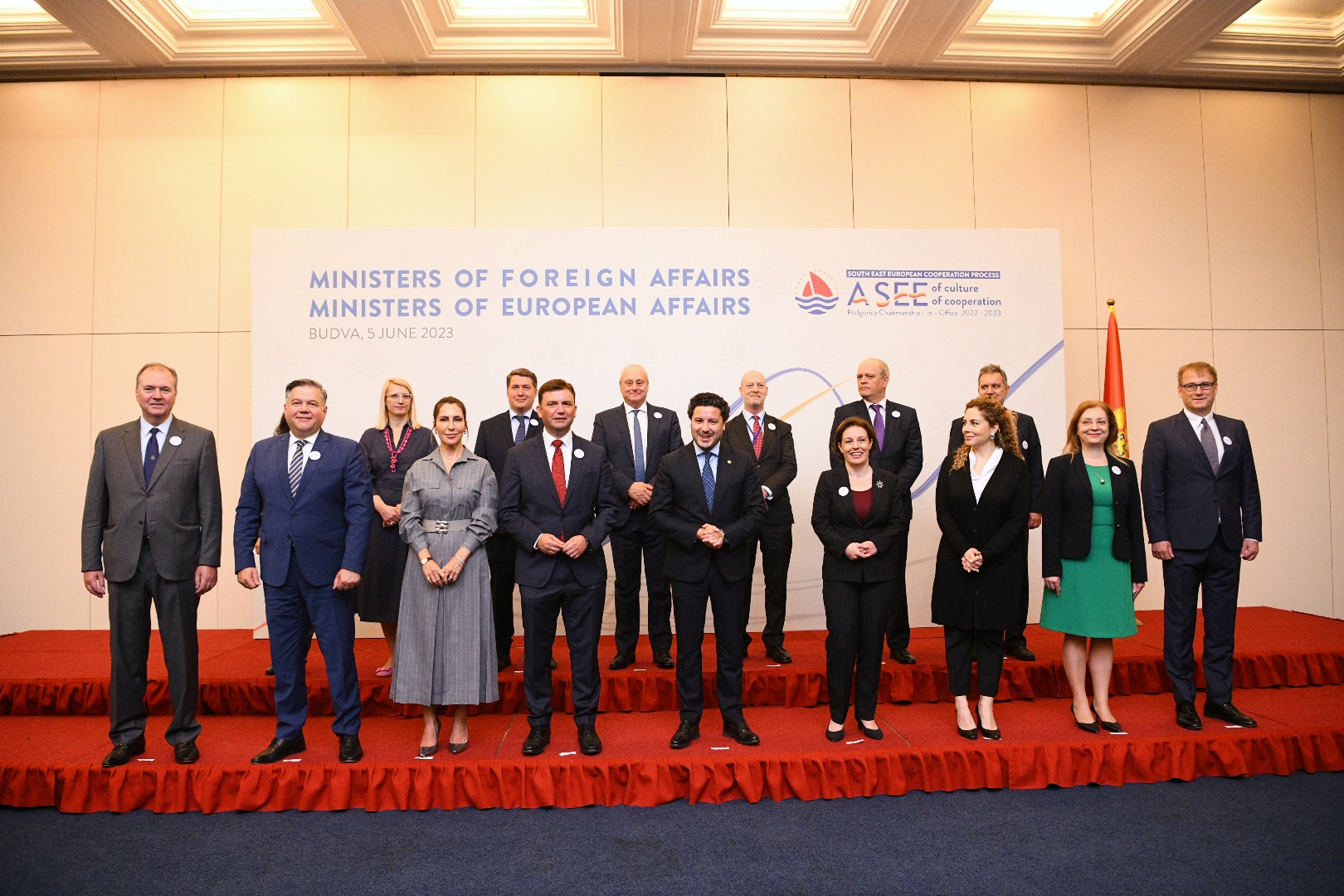 Participants of RCC Annual Meeting endorse organisation's Annual Report
Budva – Ministers of Foreign Affairs (MFA) of the South East European Cooperation Process (SEECP) commended the efforts of the Regional Cooperation Council (RCC) in fostering regional cooperation and integration of the Western Balkan economies into the European Union (EU), focusing on the set of specific achievements in the past twelve months: RCC-coordinated EU-WB roaming reduction agreement and three mobility agreements singed at the Berlin Process Summit last year. The SEECP ministers, gathered at the SEECP Meeting of Ministers of Foreign Affairs in Budva, Montenegro today, also endorsed the RCC Annual Report presented by the organisation's Secretary General, Majlinda Bregu.
"A Stronger Europe most definitively is the one with integrated Western Balkans. Completion of the European dream for the region requires a strategic vision and hard work. On the EU side, it would take political willingness and dedication to enlargement. Western Balkans are hopefully done for good with the "ifs" on our accession to the EU, rightly focusing on the "when" and "how", said RCC Secretary General Majlinda Bregu addressing the Ministerial meeting today.
Later in the day SEECP Ministers of European Affairs at their meeting reiterated earlier appreciation of the work of the RCC and its Secretary General as well as the successes in streamlining regional cooperation and related initiatives.
"We are now eager to embark on bolder translation of declarations into tangible actions, restoring EU accession credibility inspired by Schuman's straightforward vision: Integration through concrete achievements! Whatever the concept, our citizens and region deserve a re-energized enlargement process and membership advantages in advance of full accession", said Bregu adding that this was teh course RCC was fiercely advocating for.
"Common Regional Market (CRM) goes hand in hand with closer association of our region with the EU's single market. We now have an EU-rules based regional model, a momentum and raised conscience about regional cooperation – key ingredients, which make us, in the RCC, optimistic about the future and new successes of regional cooperation. Furthermore, our joint SEE2030 Strategy remains a key blueprint and framework for our collective efforts on sustainable growth in the entire South East Europe," concluded Bregu.
Meetings were chaired by Dritan Abazovic, Prime Minister of Montenegro, current SEECP Chairmanship-in-Office (C-i-O) gathered South East Europe ministers and high-level representatives. Both meetings, of SEECP Ministers of European Affairs and Ministers of Foreign Affairs took place under the umbrella of Montenegrin SEECP Chairmanship-in-Office (CiO) that runs from 1 July 2022. Summit of SEECP leaders that is to take place on 27 June is expected to endorse the RCC Annual Report. At the Summit North Macedonia is taking over SEECP CiO from Montenegro for the coming year.