From today, Albania, Serbia, North Macedonia and Montenegro become part of Digital Europe, a program worth close to 7.5 billion EUR Bregu: Crucial step to reinforcing critical digital capacities in our region is phasing in EU policies and programmes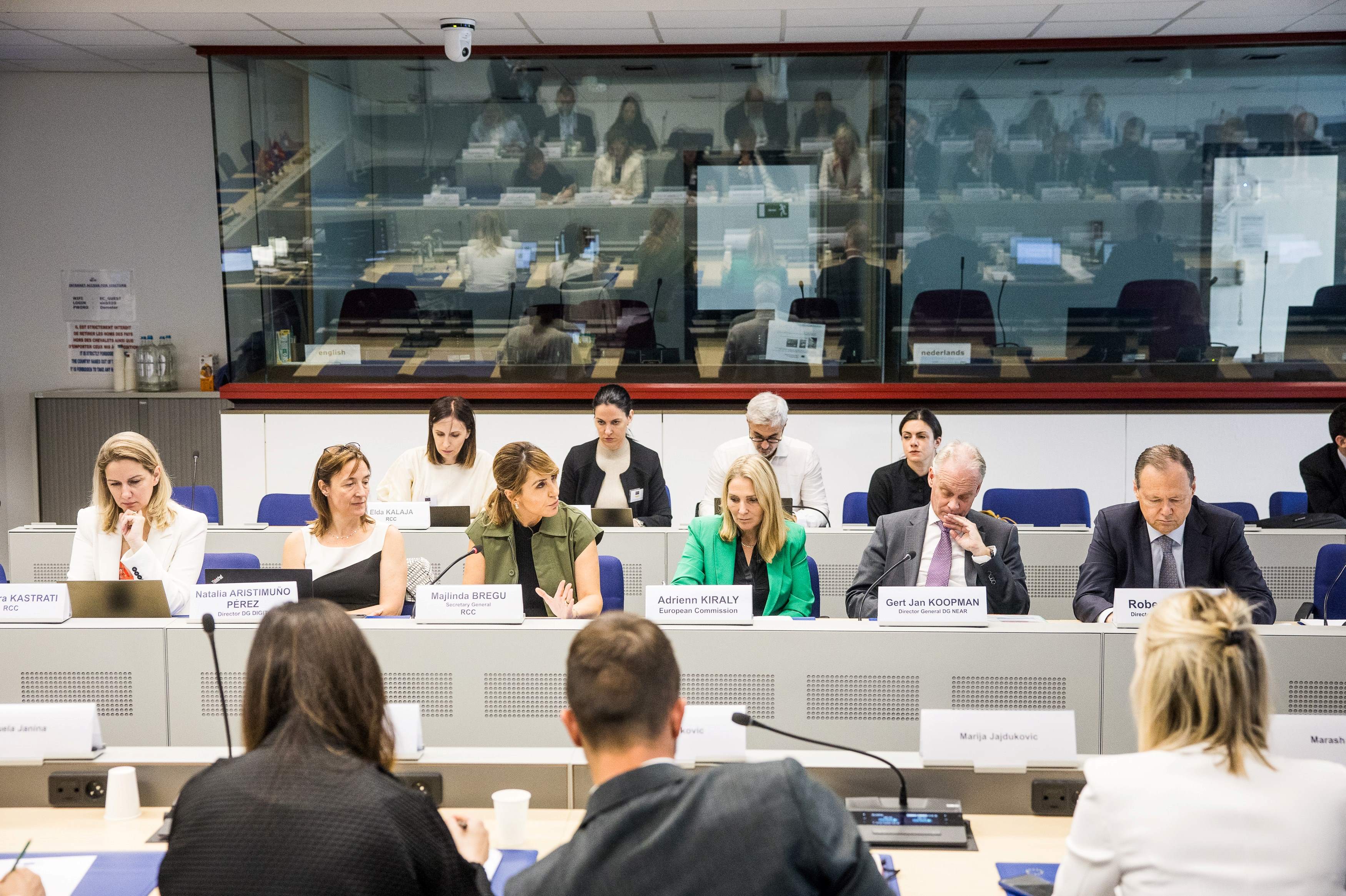 3 days of Western Balkans Digital Agenda in Brussels: RCC at the EU-Western Balkans Regulatory Dialogue meeting

Brussels – "Today's accession to the Digital Europe Programme for four conomies from our region is a major development enabling them to benefit from a program of almost 7,5 billion EUR. What once seemed almost utopic is now a reality since 2021 - with the regional roaming fees eliminated. We continue to keep our promises on the roaming agenda. During the first Regulatory Dialogue I emphasised the next challenge to reduce the massive roaming charges between the EU and WB. As of 1 October, we expect an average regional reduction by 30% of data cost while roaming. The impact of the slashed costs is as always beyond monetary," said Secretary General of the Regional Cooperation Council (RCC), Majlinda Bregu, at the EU-Western Balkans Regulatory Dialogue meeting organised by the European Commission in Brussels today. 
The meeting gathered ministers from the Western Balkans in charge of Communication, European Commission officials, as well as representatives of Western Balkans telecommunication regulatory bodies and agencies. Besides Ms Bregu, the opening remarks have been delivered by Roberto Viola, Director General at EU's DG CONNECT; Gert Jan Koopman, Director General at EU's DG NEAR; and Natalia Aristimuño Pérez, Director at EU's DG DIGIT. 
"We are gathering one day after the successful high-level cyber conference – calling for more systemic integration of our region in EU's overall cyber efforts – by default and by design, across the full spectrum. These two intense days of cybersecurity policy and regulatory dialogue between our region and EU on digital transformation agendas could hopefully soon become more commonplace. Today's dialogue can and should also spot some of the concrete digital avenues, policies, frameworks, programmes – in which the region can integrate with concrete benefits ahead of the accession. RCC stands ready to be the platform to also shape this bolder and more progressive integration vision, bringing our region closer to the EU. Only a strong demand-driven dialogue along EU's clear vision for open avenues for accelerated integration and strong pragmatism that helps a reality check of our regulatory needs and challenges - could bring lasting results," concluded Bregu. 

On average, 72.5% of WB households had access to fixed broadband networks offering the speeds higher then 30Mbps, compared to 90% in the EU. Moreover, only 35% of the WB citizens possess at least basic digital skills, while in EU the average is nearly 54%. Only 3% of enterprises in the WB region used at least one Artificial Intelligence technology, while in EU this is nearly three times more, and the use of digital technologies by SMEs in WB remains notably below the EU average. The upcoming Growth Plan for the Western Balkans, which should entail gradual integration in the digital single market and increased financial assistance, could be the key driver towards dialogue and cooperation with EU.