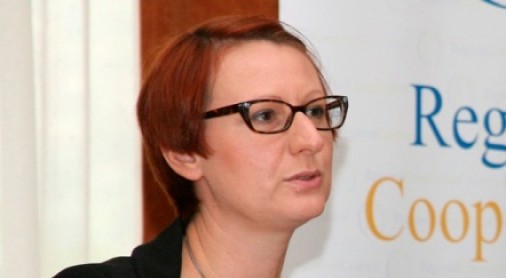 Justice and Home Affairs
Steady progress has been made in the area of justice and home affairs (JHA) throughout South East Europe (SEE) over the past few years. However, structural socio-economic reforms, economic crisis and major challenges in the area of rule of law make the region particularly vulnerable to organized crime and corruption.
The RCC Secretariat's role in justice and home affairs is to support, promote, coordinate and monitor activities of the existing regional initiatives and organizations, ensuring that their efforts are mutually reinforcing, not overlapping, and complementary to the region's EU integration goal. These initiatives include: Southeast European Cooperative Initiative's Regional Centre for combating trans-border crime (SECI Centre), and South East European Prosecutors Advisory Group (SEEPAG), both located in Bucharest; Regional Anticorruption Initiative's Secretariat (RAI) in Sarajevo; Migration Asylum Refugees Regional Initiative (MARRI), located in Skopje; Southeast Europe Police Chiefs' Association (SEPCA) in Sofia; and the Secretariat of Police Cooperation Convention for Southeast Europe (PCC-SEE) in Ljubljana. The RCC Secretariat is providing technical expertise and substantive inputs to these initiatives, and assists them in gaining access to regional and international political, technical and financial support, required to fulfill their objectives.
The RCC Secretariat maintains close liaison with relevant national partners – justice ministries, law enforcement agencies, prosecution, judiciary, research institutes, NGOs, etc., and acts as a facilitator among different organizations and countries involved, bringing together regional actors and international partners on equal basis.
The core regional priority in JHA area is to fight organized crime, in particular economic and financial crime, smuggling of legal and illegal goods, and trafficking in human beings. Attention is also given to the regional dimension of anti-terrorism and the suppression of the terrorism financing. In this respect, SECI Centre (future SELEC), PCC-SEE Secretariat and SEPCA have a key role to play in the region. The RCC will have a supportive role in facilitating the process of strengthening and streamlining judicial cooperation, enhancing links between law enforcement, prosecution and judiciary.
In the fight against corruption, the regional priority is to improve sharing of good practices; corruption must be addressed simultaneously, both at regional and national levels. In this context, RAI activities need to be better targeted and RCC will support RAI to this effect.
As regards migration, refugees and asylum, MARRI is supported in building capacity to assist its member states in assessing circumstances in the countries and regions of origin for potential asylum seekers and refugees and better address cooperation on migration (both legal and illegal) within the region.
Protection of fundamental rights as well as cooperation in private and civil law matters is developed at regional level, taking into account the growing freedom of movement of people, goods and services in SEE. An efficient fight against organized crime and terrorism needs to take into account fundamental rights, notably rights pertaining to liberty and security, access to justice, right to a fair trial and to a due process, free legal aid, alternative dispute resolutions, as well as assistance and redress mechanisms for crime victims.
For these purposes, the RCC Secretariat is closely cooperating with relevant European and international institutions and agencies, such as European Commission, EU Council, Organization for Security and Co-operation in Europe (OSCE), United Nations Office on Drugs and Crime (UNODC), Council of Europe, INTERPOL, EUROPOL, European Anti-Fraud Office (OLAF), etc.
RCC and Regional Initiatives and Task Forces in South East Europe