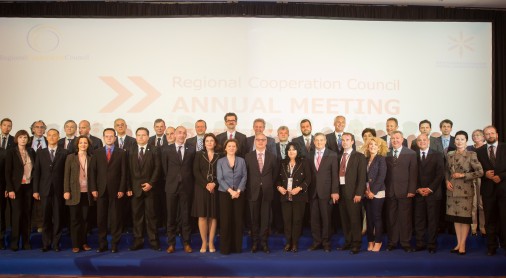 Annual Meeting 2015 of the Regional Cooperation Council
The Annual Meeting of the Regional Cooperation Council (RCC) took place on 22 May 2015, in Tirana, Albania, back-to-back with the SEECP Meeting of Ministers of Foreign Affairs. It gathered representatives of the 46 participants of the organization, as well as regional organizations and initiatives engaged in regional cooperation in South East Europe.
Introductory remarks were made by the Minister of Foreign Affairs of Albania, Ditmir Bushati, and RCC Secretary General, Goran Svilanovic.
The RCC Secretary General presented the organization's Annual Report on Regional Cooperation in South East Europe 2014-2015, with focus on the implementation of the RCC Strategy and Work Programme 2014 – 2016 and the South East Europe 2020 Strategy, which was endorsed by the Annual Meeting. The meeting participants exchanged views on recent developments in regional cooperation in South East Europe, and endorsed nomination proposal for the Secretary General of the RCC.
The event was co-organized by the RCC Secretariat and Albanian Chairmanship-in-Office 2014-2015 of the South-East European Cooperation Process.
The RCC Annual Meeting was followed by a public presentation of the SEE 2020 Strategy Monitoring System.