Press Releases
Sarajevo conference calls on European institutions to support public media in digital transition for South East Europe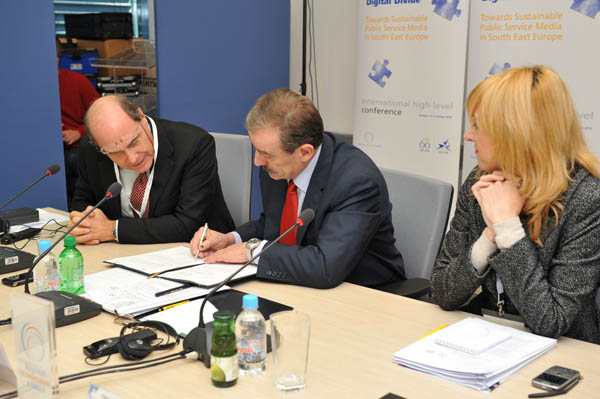 SARAJEVO – Broadcasters and government officials pledged to ensure a smooth digital transition in South East Europe and called on European institutions for financial support in the interests of European cohesion.
This was a key message of a two-day roundtable conference entitled Addressing Europe's Digital Divide: Towards Sustainable Public Service Media in South East Europe. Organized by the Regional Cooperation Council (RCC) Secretariat and the Geneva-based European Broadcasting Union (EBU), the meeting was attended by more than 50 directors general, media experts and government, broadcaster and regulatory officials.
In a "way forward to 2020" signed by EBU Vice-President Claudio Cappon and RCC Secretary General Hido Biscevic, the conference participants agreed:
To establish an enduring cooperation to ensure the sustainability of all public service broadcasters in South East Europe by 2020;
To promote the values and principles of public service media, as recognized by the Council of Europe and the European Union;
To call on the European Union to support these goals politically and financially under its aim to guarantee European cohesion.
The conference highlighted the need for the public broadcasters, relevant ministries and regulators in South East Europe to join forces to ensure that the region does not lag behind the rest of Europe in meeting deadlines for digitalization and analogue switch-off.
The participants agreed that the region's public broadcasters in the digital era need to remain key actors in the evolving knowledge society, provide reliable information, quality educational, cultural and entertainment programmes, and be motors for regional development and investment in the creative industries.
Speaking at the conference, Minister of Communications and Transport of Bosnia and Herzegovina, Rudo Vidovic, told the conference that digitalization would create a "free and open media market. This momentum needs to be seized."
Mr Biscevic said sustainable public service media were vital for the countries of South East Europe as a whole – and for the European Union they hope to join. But he said their role was threatened by a lack of investment in infrastructures "and also in human capital".
In an opening keynote speech, EBU Director General Ingrid Deltenre said public service broadcasters needed to play a leading role in the digitalization process in South East Europe, as they have played elsewhere on the continent.
Conference speakers included Peter Karanakov, Executive Director, MKRT; Nataša Vučković Lesendrić, Assistant Minister for the Media, Ministry of Culture of Serbia; Marija Nemcic, Deputy HRT General Manager for International Relations; Bledar Meniku, Ministry for Innovation, Information Technology and Communication of Albania; Maria Luisa Fernandez Esteban, Directorate General for the Information Society and the Media, European Commission; and Oliver Vujović, Secretary General of the South East Europe Media Organisation.
The participants comprised senior representatives of governments, broadcasters and regulators from Albania, Bosnia and Herzegovina, Croatia, Greece, Moldova, Montenegro, Serbia, Slovenia, The Former Yugoslav Republic of Macedonia and Turkey, as well as the EU and other relevant institutions.
The conference conclusions and other event documents are available HERE and at the website of the EBU (www.ebu.ch).
More news