Press Releases
Eight South East European stock exchanges to sign platform for joint action, under RCC auspices in Sarajevo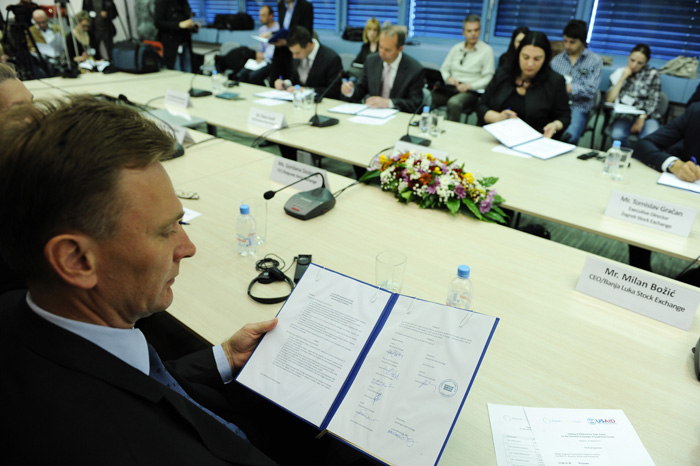 SARAJEVO – Directors of eight South East European (SEE) securities (stock) exchanges will sign a Platform for Joint Action under the auspices of the Regional Cooperation Council (RCC) Secretariat, in Sarajevo, tomorrow, 27 March.
The Platform is expected to enhance cooperation among the securities exchanges and improve access to finance in the region, which is a key prerequisite for private sector growth. It has been spearheaded by the RCC Secretariat and the Partners for Financial Stability Program of the United States Agency for International Development (USAID).
The main goals of the Platform include moving the capital markets in the region towards greater and more direct linkages, as well as providing an environment that promotes capital formation within SEE and more access to individual markets by domestic and foreign investors.
Introductory remarks at the signing ceremony will be delivered by Hido Biscevic, RCC Secretary General, Allan E. Reed, Director of USAID's Mission in Bosnia and Herzegovina, and Ivan Steriev, Chief Executive Officer of the Securities Exchange in Skopje.
The Platform will enable exchange of experience, and raise public awareness and the overall level of knowledge about financial markets among the general population. It will support harmonization of the securities regulatory regimes governing South East European markets, resulting in systemic strength and investor protection, on a cost-effective basis.
The signatories of the Platform are securities exchanges from Banja Luka, Belgrade, Ljubljana, Podgorica, Sarajevo, Skopje, Tirana and Zagreb.
Journalists are invited to the signing of the Platform, which will take place on Tuesday, 27 March 2012, at 11.00 hours, at the RCC Secretariat, Trg Bosne i Hercegovine 1/V, 71000 Sarajevo, Bosnia and Herzegovina.
More news