Press Releases
Long-term social development in Western Balkans to be discussed at RCC, FES event in Sarajevo, tomorrow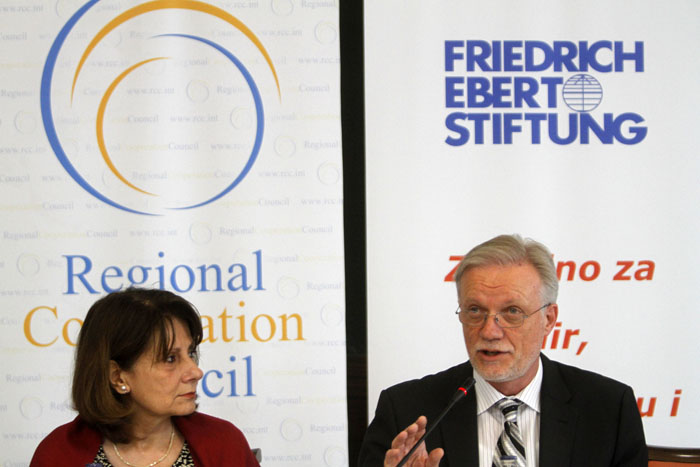 SARAJEVO – A two-day regional conference New Skills for New Jobs in Western Balkans will open in Sarajevo tomorrow. The event will discuss steps to establish a long-term vision of social development in the region, in line also with EU social agenda.
The meeting, which will gather relevant national policy makers, social partners, experts and international organizations, is being organized by the Regional Cooperation Council (RCC) Secretariat in cooperation with the Friedrich Ebert Foundation (FES).
It will focus on sharing knowledge, experience and good practices from the region and internationally in terms of skills gap analysis, and discuss ways for improving evidence based policy making for employment generation and skills provision.
The participants will debate regional social development objectives, tangible headline targets and indicators as part of a social development agenda 2020 for the Western Balkans countries.
Opening addresses will be delivered by Jelica Minic, Deputy RCC Secretary General, and Roland Feicht, Director of FES Project for Labor Relations and Social Dialogue in South East Europe.
The event is a follow up to the conference organized by the RCC Secretariat and the FES in October 2011. Mainstreaming the social development agenda into economic policy reforms and deliberations has been an RCC priority. The RCC views promotion of social economy and new jobs creation as key ingredients of economic and social development in the region.
Journalists are invited to the opening of the conference, on Thursday, 12 July 2012, at 9 a.m., at Hotel Bristol's conference room Banja Luka, Fra Filipa Lastrica 2, 71000 Sarajevo, Bosnia and Herzegovina.
More news