Press Releases
South East Europe Investment Committee to back initial targets for regional 2020 strategy, at RCC-hosted meeting in Sarajevo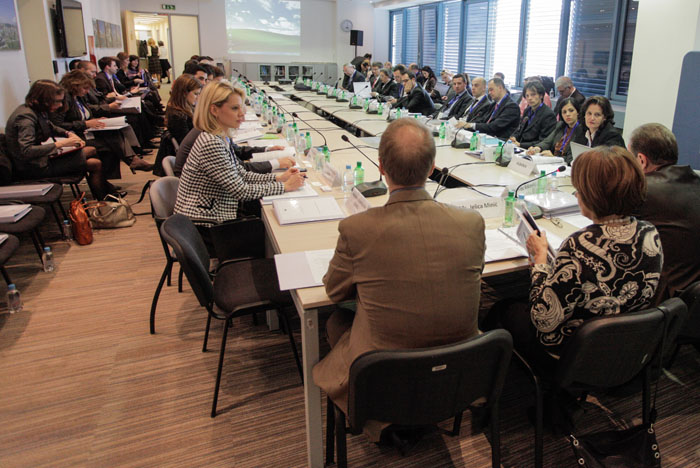 SARAJEVO – The South East Europe Investment Committee (SEEIC) is expected to back initial flagship targets for the South East Europe (SEE) 2020 Strategy at its meeting in Sarajevo, tomorrow.
The event, hosted by the Regional Cooperation Council (RCC) Secretariat, will focus on setting the targets for integrated, smart, inclusive, and sustainable growth within a good governance framework. The participants will seek ways to increase competitiveness in the region through joint action.
Opening addresses at the meeting will be delivered by Jelica Minic, Deputy RCC Secretary General; Bashkim Sykja, Director of Competitiveness Policy Department, Ministry of Economy, Trade and Energy of the Republic of Albania; and Yngve Engstroem, Head of Regional Cooperation and Programmes Unit at the European Commission's Directorate General for Enlargement.
The participants will also finalize a draft Statement for the SEEIC Ministerial Conference scheduled to take place on 9 November 2012, in Tirana, Albania, that is to integrate the proposed regional targets into a coherent and ambitious document guiding further development and implementation of the SEE 2020 Strategy.
The meeting will bring together country economic teams for the SEEIC, representatives of national Instrument for Pre-accession Assistance (IPA) coordination offices, the European Commission, international organizations, donor and business community. It will update on the multi-beneficiary IPA Private Sector Development Programming for 2013.
Journalists are invited to the opening of the meeting, on Wednesday, 3 October 2012, at 9.30 a.m., at the premises of the RCC Secretariat, Trg BiH 1/V, 71000 Sarajevo, Bosnia and Herzegovina.
More news