Press Releases
2nd railway congress ends in Sarajevo, agrees to work on common railway system in South East Europe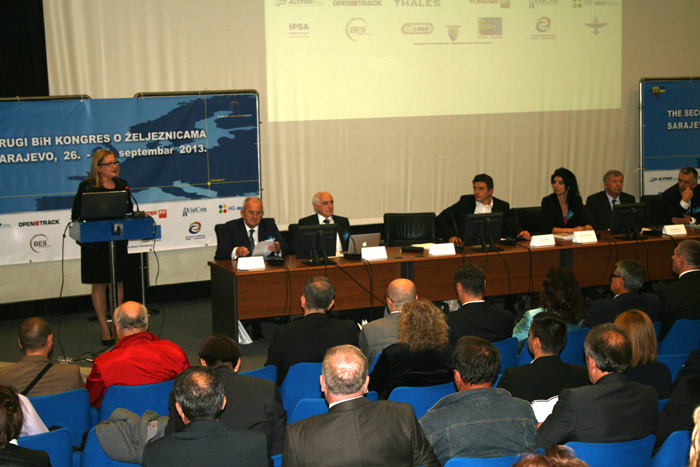 SARAJEVO – A two-day Congress on Railways in South East Europe ended in Sarajevo today, with over 250 participants from eleven countries agreeing to work on a common railway system in the region.
The participants concurred on a need to redirect road to rail transport, develop ancillary infrastructure and transport terminals, and strengthen logistic chains and interoperability to raise the quality of services along the transport network. They agreed that railways are the safest mode of land transport of passengers and goods which, compared to other transport systems, is more environmentally acceptable and cost-effective.
The 2nd Congress discussed transportation policy, development strategies, railway management, railway infrastructure, mobile capacities, traffic safety, interoperability, environmental protection, and financing.
In his opening address, Damir Hadzic, Minister of Communication and Transport of Bosnia and Herzegovina, underlined that railways should be seen in the context of economic policies, respecting social and regional equality, and environmental protection.
"Railway infrastructure is a backbone of land transport, but it has been neglected which has lead to its deterioration. We need to speed up efforts to revitalize the railways, and in this respect regional cooperation plays an important role."
The event was co-organized by the Association of Consulting Engineers of Bosnia and Herzegovina (ACE BiH) and the Regional Cooperation Council (RCC) Secretariat, with support of the Ministry of Communications and Transport of Bosnia and Herzegovina.
"Modernization of infrastructure, particularly railways, in our region is of an utmost importance for reviving national economies at this time of crisis", said Svetlana Gligorovska, RCC Secretariat's Expert on Infrastructure, while addressing the Congress.
"Ideally, all South East European (SEE) railways would implement a set of synchronized and sequenced actions. Therefore, within its SEE 2020 strategy, the RCC has identified a need to focus on interoperability, competition and implementation of adopted EU acquis, and on a truly regional approach to dealing with complex systems such as railways."
Esref Gacanin, ACE BiH President, reminded that the European transport policy aims at improving mobility of people and goods, enhancing transport safety and ensuring sustainable development of transport systems.
"The Congress on Railways is an excellent opportunity for governmental and financial sectors to share experience on development and implementation of transport policies."
The 250 experts in developing rail transport system, management, construction, maintenance, protection of the environment, railway safety, consulting and financing of the railway infrastructure, as well as scientists and governmental representatives from Bosnia and Herzegovina, other South East European countries, and international organizations took part in the event. The participants analysed the situation and challenges in developing the rail infrastructure in Bosnia and Herzegovina and the region.
Contribution to enhancing and modernizing railway infrastructure is a priority of the transport sector of the RCC Secretariat's Strategy and Work Programme 2014-2016, and of the SEE 2020 strategy as its core element.
The RCC Secretariat's Strategy and Work Programme 2014-2016 is available at http://www.rcc.int/pubs_archive/20, while the first draft of the SEE 2020 strategy can be found at http://www.rcc.int/pages/0/60.
More news