Press Releases
EU invests 100,000 euro in rehabilitating 8 cultural heritage sites in Western Balkans through RCC Task Force; more funds to follow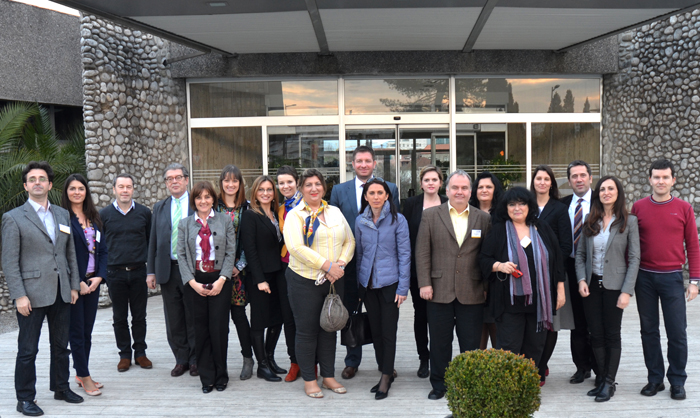 SARAJEVO/PODGORICA – 100,000 euro worth works on rehabilitating eight cultural heritage sites in four Western Balkans countries have been completed, informed the meeting of the Regional Cooperation Council (RCC)'s Task Force on Culture and Society that ended in Podgorica, Montenegro, today.
The sites in question are: Summer Residence of King Aleksandar Karađorđević in Han Pijesak, Bosnia and Herzegovina; Former French Embassy in Cetinje, Montenegro; Suvača in Kikinda and Coal Mine in Senje, Serbia; Zlatko's Tower, Archaeological Site of Stobi, Aqueduct in Skopje, and Church St. George in Staro Nagorichane, The Former Yugoslav Republic of Macedonia, with the works at the Fortress of Gumnishte in Kosovo* and St. Mary Monastery in Apollonia, Albania, being in the final phase.
"The works done include urgent consolidation, preliminary investigations to assess and identify the most valuable options for the rehabilitation, and preparation of site management plans to sustain the rehabilitation projects," said Ivana Nakikj, Head of Secretariat of the RCC Task Force on Culture and Society.
The contribution is part of the European Commission's 500,000 euro grant for sustaining the rehabilitation of cultural heritage in the Western Balkans. The action is being implemented by the RCC's Task Force on Culture and Society.
"Another 270,000 euro is in the pipeline and will be used for 13 more sites in the region," said Borče Nikolovski, Chair of the Task Force.
Additional 2.8 million euro provided by the Commission are expected to be utilized by 2016 for preserving three Western Balkans sites – the Franciscan Monastery of Bac in Serbia, Banja Luka Kastel in Bosnia and Herzegovina, and Apollonia Archaeological Site in Albania.
Wenceslas de Lobkowicz, European Commission's Advisor on Inter-cultural dialogue and Cultural Heritage at the Directorate General for Enlargement, explained that the latter project is currently at the phase of implementation by the EU Delegations in the countries concerned.
The meeting of the RCC Task Force on Culture and Society also adopted the Interim Narrative Report on the activities of the Task Force and its Secretariat. The participants were informed on the progress and roadmap for the Cultural and Creative Sectors Dimension of the Smart Growth Pillar within the RCC-developed South East Europe 2020 strategy. They also reviewed the extension of the EU Grant for Support to Ljubljana Process II - Rehabilitating our Common Heritage, until November 2014.
The meeting, organized by the Task Force Secretariat, gathered high-level officials from RCC participants in South East Europe, representatives of the RCC Secretariat, and the European Commission.
More news