Press Releases
Regional Cooperation Council Board accepts the organisation's Annual Report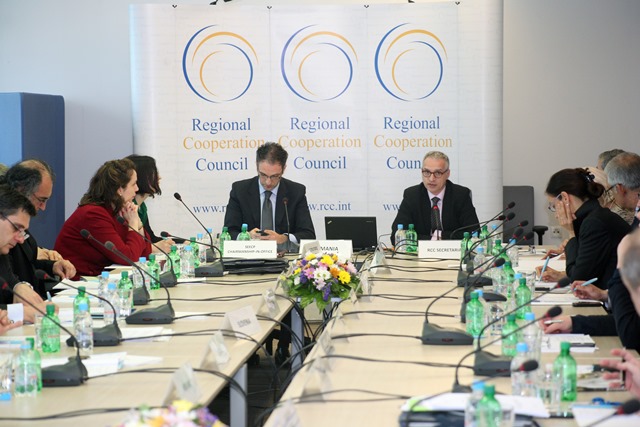 SARAJEVO, 24 April 2014 – The Regional Cooperation Council (RCC) Board accepted the Annual Report of the RCC Secretary General on regional cooperation in South East Europe in the period 2013-2014 at its 23rd meeting held in Sarajevo, Bosnia and Herzegovina, today.
"The year behind us was a challenging one", said Goran Svilanovic, RCC Secretary General, adding that "the consequences of the economic downturn, such as high unemployment, poor economic competitiveness, strained social fabric and many others, continued to reverberate across the region."
"However, it is most encouraging that regional cooperation has increasingly been perceived by the participants from the region as a way for building consensus and taking resolute action. Regional cooperation proved its role as an important European Union membership precondition and in fostering dialogue, reconciliation, stability and
prosperity."
The RCC Board has also heard the report by the Secretary General on activities of the organisation's Secretariat in the period January-March 2014, the assessment of the implementation of the RCC Strategy and Work Programme 2011–2013 as well as information on the future plans.
This period was mostly characterised by the process of starting the implementation of RCC's new Strategy and Work Programme (SWP) 2014–2016 and its central pillar - the South East Europe 2020 Strategy (SEE 2020).
The information about the yesterday-held 15th Coordination Meeting of the Troika of the South-East European Cooperation Process (SEECP), currently chaired by Romania, the RCC Secretariat and the European Union was presented to the Board members.
Furthermore, on 23 April, the 1st meeting of the Ad-Hoc Working Group on the future of SEECP under the Romanian SEECP Chairmanship-in-Office took place in the premises of the RCC Secretariat.
The topics discussed at the first meeting included: strengthening of the SEECP role; improvement of cooperation between the RCC and SEECP; improvement of SEECP functioning; and consolidation of SEECP priority areas.
The RCC Board meets three times a year and is chaired by the RCC Secretary General. The Board provides the RCC with operational guidance and supervision. It consists of those RCC participants contributing to the budget of the RCC Secretariat as well as the European Union.
The Report of the RCC Secretary General on the activities of the RCC Secretariat

More news