Press Releases
Belgrade audience lauds two female authors from Bosnia and Herzegovina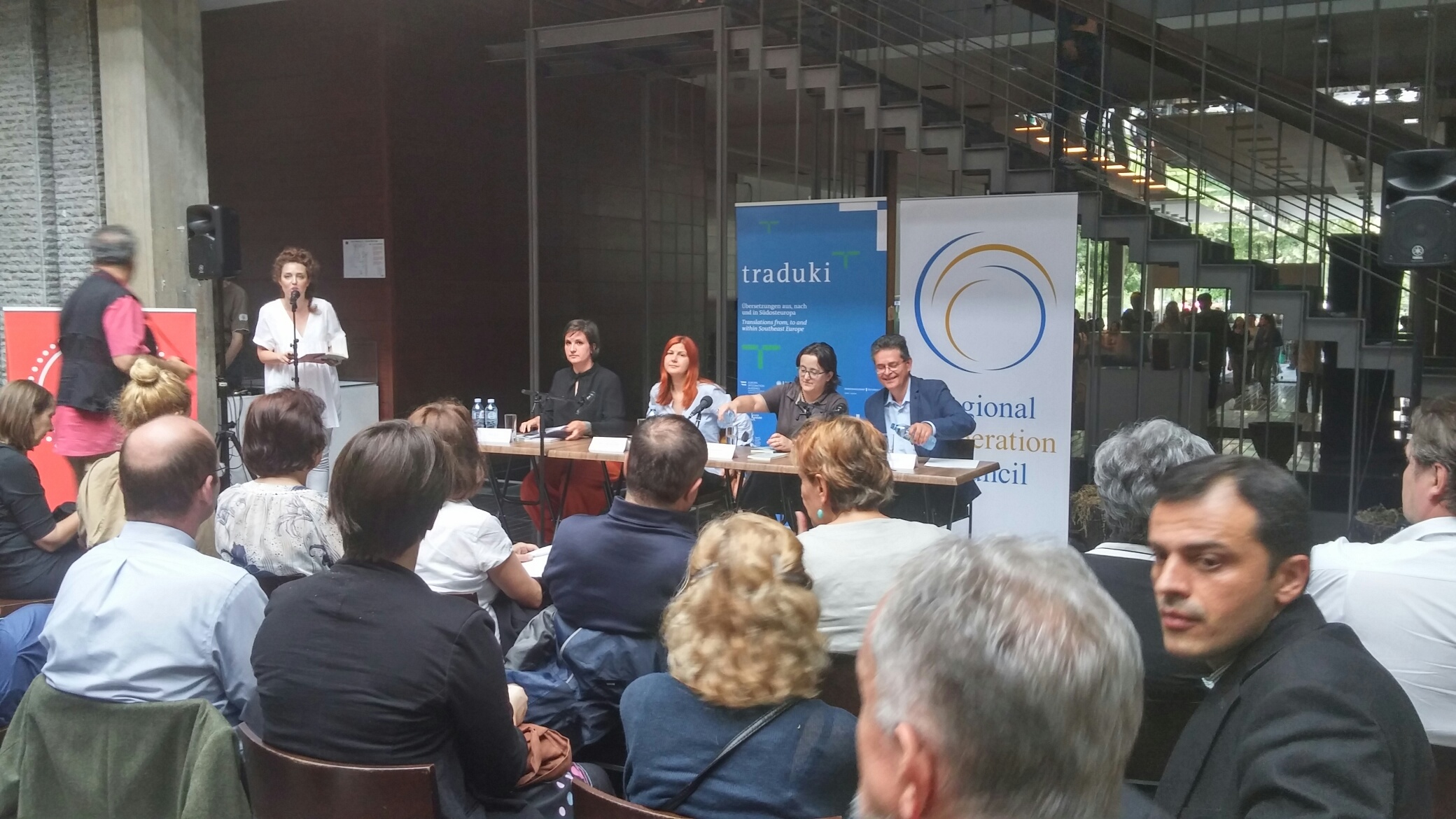 Belgrade – Two award winning authors from Bosnia and Herzegovina, Lejla Kalamujić (Sarajevo) and Tanja Stupar-Trifunović (Banja Luka), presented their work to the Belgrade audience at the National Library of Serbia, today. This literary afternoon was supported by the Regional Cooperation Council (RCC) and Traduki, a European network for literature and books.
Hana Stojić and Nenad Sebek, on behalf of the organisers – Traduki and RCC, welcomed the guests and thanked the authors for galvanising a regional exchange of literature, authors and audiences.
The common emotion of one generation still searching for its lost childhood was very visible in both authors and readings from their latest works: "Zovite me Esteban" (Lejla Kalamujić) and "Satovi u majcinoj sobi" (Tanja Stupar-Trifunović), which was generously rewarded with a thunderous applause by an impressive audience in the central hall of the Serbian National Library.
Speaking about her artistic expression of choice, Lejla Kalamujić said that the short-story is not a transitional form but the one she has chosen for herself. She also shared her thoughts on female authors on Bosnia and Herzegovina scene: "There are many reasons why there are not many female authors on the scene: historical, political, cultural, etc. but things are changing and if I am proving that this change is happening, it would make me very happy."
Tanja Stupar-Trifunović said that the EU literature award she received this year for her novel was a most significant and encouraging boost, especially since it was her first novel after several collections of poems. "My work is often about a difficult life of those who have decided to be as authentic and true to themselves as possible, avoiding the masks that many of us tend to wear in various situations in life."
Vladimir Pistalo, the first author hosted by the RCC as a part of its promotion-of-culture activities back in 2014 was also at the literary event today quizzing and praising his young colleagues.
This literary treat is envisaged as the first in the series of events this year which will include an exchange of authors from the region and give them the opportunity to present their writing throughout South East Europe, thus making a strong link between the RCC's mission to foster overall regional cooperation with Traduki's specific goal to strengthen the region through literary and intellectual exchange.
The 'literary afternoon' with Kalamujić and Stupar-Trifunović was also a kind of an introduction to a meeting of selected libraries and experts from South East Europe (SEE) who will discuss cross-border book distribution and sales, organised by Traduki and the German Foreign Office.
More news