Press Releases
RCC and OSCE Secretary Generals agree on priority areas of cooperation in South Eastern Europe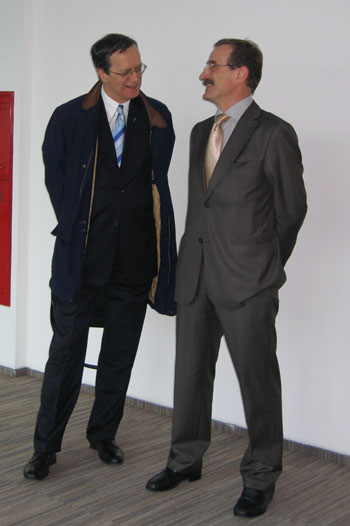 SARAJEVO – Justice, home affairs, security and parliamentary support will be in focus of cooperation between the Regional Cooperation Council (RCC) and the Organization for Security and Co-operation in Europe (OSCE), the organizations' Secretary Generals, respectively, Hido Biscevic and Marc Perrin de Brichambaut, agreed at a meeting in Sarajevo today.
"The OSCE is a participant to the RCC and a very important partner in building stability in the region", said Mr. Biščević. "We consider joint work in the fields of justice, home affairs, security and parliamentary support as the best way of ensuring that stability and cooperation continue to enhance European and Euro-Atlantic prospects of the countries of South Eastern Europe."
"A constant progress in the region over the last years has been noticeable, and the OSCE and the RCC will build their future activities on it", said Mr. de Brichambaut. "The political situation in South Eastern Europe, however, still requires a focused attention so that the current challenges are overcome to the benefit of the people and the regional stability."
Mr. Biščević and Mr. De Brichambaut agreed to have regular exchanges to boost the joint efforts of the two organizations.
More news