Press Releases
RCC Secretary General presents quarterly report to members of the organization's Board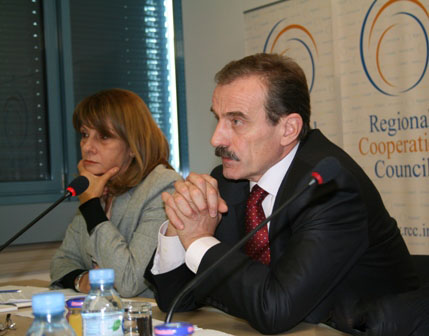 SARAJEVO – The RCC Secretary General Hido Biscevic presented today his quarterly report to the 29 members of the RCC Board, at their first meeting at the premises of the RCC Secretariat in Sarajevo.
In the report, the RCC Secretary General outlined the activities of the Secretariat on the implementation of its 2008-2009 Strategic Work Programme in the priority areas of economic and social development, energy and infrastructure, justice and home affairs, security cooperation, building human capital, and parliamentary cooperation.
He informed of completion of the RCC set up, a series of political consultations with high level officials from RCC members from Southeast Europe, cooperation with regional organizations and initiatives, as well as of the process of networking among RCC National Coordinators from Southeast Europe, RCC Secretariat, European Commission and relevant international financial institutions.
Secretary General Biscevic announced upcoming RCC Secretariat's plans, most notably the project of establishing the South East Europe Regional Fire-Fighting Centre and the Southeastern-Central Europe Catastrophe Risk Insurance Facility. He spoke of other activities and projects to be elaborated with relevant international partners, including promotion of sustainable use and integrated management of inland waterways.
The regular quarterly report covers the period between 20 May 2008, when the Board last met, and 1 October 2008. It will be available at the RCC website www.rcc.int later today.
The RCC Board provides the organization with operational guidance and supervision. It consists of those RCC members contributing to the budget of the RCC Secretariat as well as the European Union, represented by the Troika, consisting of the EU Presidency, the European Commission and the EU Council Secretariat.
A version in Bosnian language is available HERE.
More news