Press Releases
Sustained reform policies key to EU integration of Southeast Europe, say Albanian Prime Minister, RCC Secretary General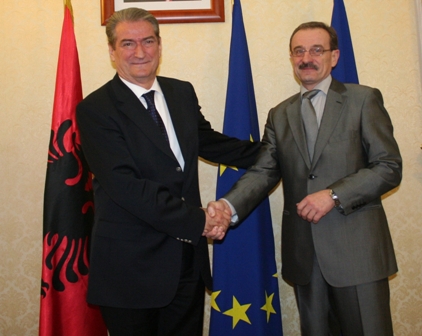 TIRANA/SARAJEVO – Southeast Europe (SEE) is maintaining continuous measured progress towards European integration by carrying out sustained reform policies in the region, said the Albanian Prime Minister Sali Berisha and the Secretary General of the Regional Cooperation Council (RCC) Hido Biščević at a meeting in Tirana yesterday.
"Albania's progress on European and Euro-Atlantic integration path is important not only for the country itself but for the entire Southeast Europe", said Secretary General Biščević. "In this context, the country's constrictive contribution to stabilization and cooperation processes in our region is of key importance."
Prime Minister Berisha highlighted the importance of preserving European and Euro-Atlantic perspective for all SEE countries. He added that, thanks to the successful work of the RCC, the time has come for the regional cooperation to be brought to a higher strategic level in the most important areas.
"Present financial and economic turmoil in Europe and the world additionally calls not only for enhanced cooperation in our region, but urges for a broader, strategic approach when addressing the development needs of SEE", said Secretary General Biščević.
The Albanian Prime Minister said his country was fully committed to designing and implementing, with other SEE countries, concrete regional projects through the EU's Multi-Beneficiary Instrument for Pre-Accession Assistance (IPA) Programme, especially in the area of energy and infrastructure.
At a meeting with Albanian Foreign Minister Lulzim Basha, Secretary General Biščević informed of RCC activities on establishing a permanent cooperation mechanism among RCC Secretariat, RCC National Coordinators from Southeast Europe, the European Commission and relevant international financial institutions, aimed at stimulating development in the region.
Minister Basha underlined the importance of permanent support of the European Commission to the RCC work. He expressed readiness of Albanian authorities to take part in RCC projects, including the establishment of the South East Europe Regional Fire-Fighting Centre and the Southeastern-Central Europe Catastrophe Risk Insurance Facility, as well as a project to promote sustainable use and integrated management of the region's inland waterways.
During the visit, the RCC Secretary General also met with the Albanian Deputy Minister of Integration, Albert Gajo.
Secretary General Biščević's visit was part of a series of political consultations with RCC members from Southeast Europe.
More news