Press Releases
German Minister of State to deliver lecture on regional cooperation stability and way to EU, at RCC in Sarajevo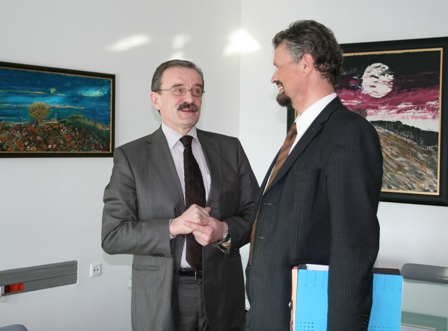 SARAJEVO – Member of the German Bundestag and Minister of State at the Foreign Office of the Federal Republic of Germany, Gernot Erler, will deliver a lecture on regional cooperation stability and the way to the EU at the premises of the Regional Cooperation Council (RCC) Secretariat in Sarajevo, on Tuesday, 10 March.
The lecture "Regional Cooperation Stability and the Way towards the European Union", to be followed by a question & answers session, will provide representatives of Bosnia and Herzegovina authorities, political parties, diplomatic missions, international organizations, academia, non-governmental organizations and the media with a view on regional developments from a perspective of a top German official.
With a background in history, Slavic languages and politics, and professional experience in publishing and academia, Minister Erler has focused his political activities on peace and security policy, South East Europe and the problems on the Balkans, disarmament and arms control, development of Russia, the CIS and Eastern European countries, Central Asia and the Caspian region, and global questions as task of the EU and the UN.
He is, amongst other, President of the South East Europe Association from Munich, Special adviser of the International Crisis Group, President of the Franco-German Cercle Stratégique (discussion group on foreign and security policy), and member of the administrative board of Deutsche Welle in Bonn.
Minister Erler will also hold a separate meeting with the RCC Secretary General, Hido Biscevic.
Journalists are invited to attend the lecture on Tuesday, 10 March 2009, at 16.15 hours, at the premises of the Regional Cooperation Council Secretariat, Trg Bosne i Hercegovine 1/V, Sarajevo.
Address by Minister Gernot Erler, delivered at RCC Secretariat is available HERE.
More information also available at the German Ministry for Foreign Affairs website, www.diplo.de.
More news