As South East European ministers discuss measures to consolidate cooperation, RCC Secretary General Biscevic is awarded Bulgarian Golden Laurel medal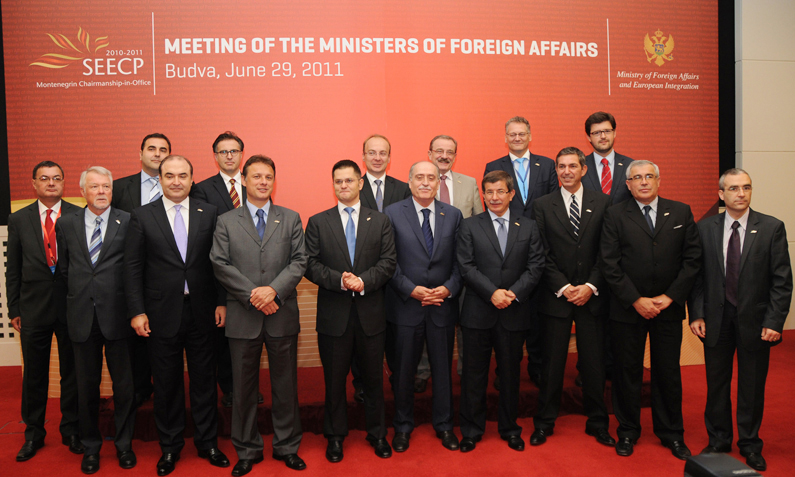 The current state of affairs in South East Europe, broadened cooperation in the context of EU enlargement and steps to further enhance and consolidate regional cooperation topped the agenda of an informal meeting of the Ministers of Foreign Affairs of the participating States of the South-East European Cooperation Process (SEECP), held in New York today, with participation of Hido Biscevic, Regional Cooperation Council (RCC) Secretary General.
The Ministers reiterated their countries' full commitment to the EU enlargement policy, stressing its transformative and stabilization impact on the region. They said that Croatia's membership as of July next year, and beginning of the accession negotiations with Montenegro, should continue to provide an impetus for other aspiring countries. The Ministers underlined that, in spite of the current situation within the EU and difficulties arising from the economic and financial crisis, the future of South East Europe lies firmly and solely within the EU as a common strategic choice.
Participating in the debate, RCC Secretary General Biscevic stressed that additional joint and mutually supportive efforts on the part of the region are needed to ensure its EU future, as "anything else would lead to a quarantine syndrome for the core of the region, with a prolonged strategic status quo or new division lines across the Western Balkans".
"Complimentary to the EU enlargement as a stabilizing power for the region, the time has come to elaborate regional economic recovery and development plans that may additionally support durable stability, in particular in light of unresolved issues and prolonged EU accession process."
The Ministers shared views and ideas on strengthening regional cooperation and consolidating its essential framework – the SEECP. The reform of the SEECP has been on the agenda for some time now and several concrete suggestions were made at the New York meeting: to hold regular thematically focused and targeted SEECP Summit meetings, to have more regular ministerial meetings, to enhance the position of SEECP National Coordinators, etc.
The Foreign Ministers said the work of the RCC Secretariat is an invaluable platform for providing tangible and concrete results in many priority sectors. They called for a smooth transition of the RCC management to the incoming Secretary General and highly praised the work done since the inception of the organization by Secretary General Biscevic.
On the margins of the meeting, Nickolay Mladenov, Bulgarian Foreign Minister, awarded RCC Secretary General Biscevic with the Golden Laurel medal, for his valuable contribution to and inspiring leadership in promoting tolerance, dialogue, moderation and mutual understanding as the essential pillars of regional cooperation in the complex South East European environment.