Foreign Minister Poposki visits RCC Secretariat, backs organization's goals and activities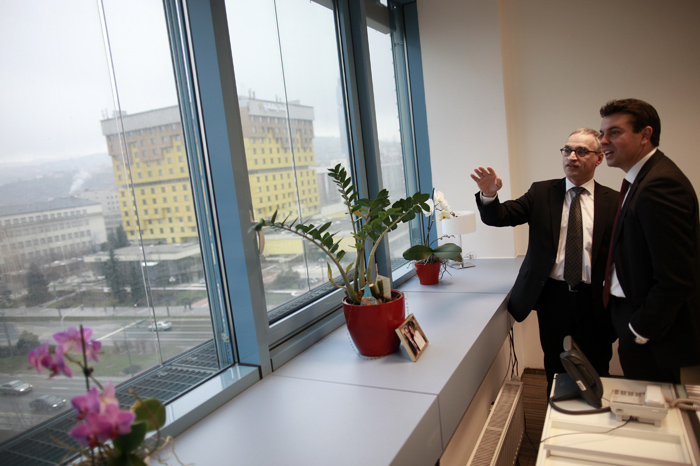 The current Chair-in-Office of the South-East European Cooperation Process (SEECP) and Minister of Foreign Affairs of the Former Yugoslav Republic of Macedonia, Nikola Poposki, paid a visit to the RCC Secretariat today to express support to the activities of the organization and congratulate Secretary General Goran Svilanovic on his recent appointment to the post.
The SEECP Chair underlined the need to enhance the European agenda within the SEECP activities and strengthen interaction among the SEECP participating States, in particular between the EU and non-EU member states.
"There is a need to work jointly to ensure a greater involvement and financial contribution of the EU in regional infrastructural projects, in the areas such as transport and energy", said Minister Poposki.
In this context, he expressed readiness to further strengthen relations and cooperation with the RCC and its Secretariat.
The RCC Secretary General presented main RCC priorities in 2013, primarily those related to preparation of the organization's Strategy and Work Programme (SWP) 2014-2016, with the regional growth strategy South East Europe (SEE) 2020 as its central pillar. He invited Minister Poposki to provide political support to SEE 2020.
"SEE 2020 is focused on turning over the present economic stagnation and downfall, and fully concentrated on economic and social growth. In order to make this happen, production, trade, investments and education must be improved, and our national governments must be far more efficient than they are nowadays."
Secretary General Svilanovic informed about preparations for tomorrow's RCC Board meeting, which is expected to debate the amended statute of the organization and the draft RCC SWP 2014-2016, as well as for the 5th RCC anniversary, marked today.