Germany supports work of RCC Secretariat with a 50,000 euro grant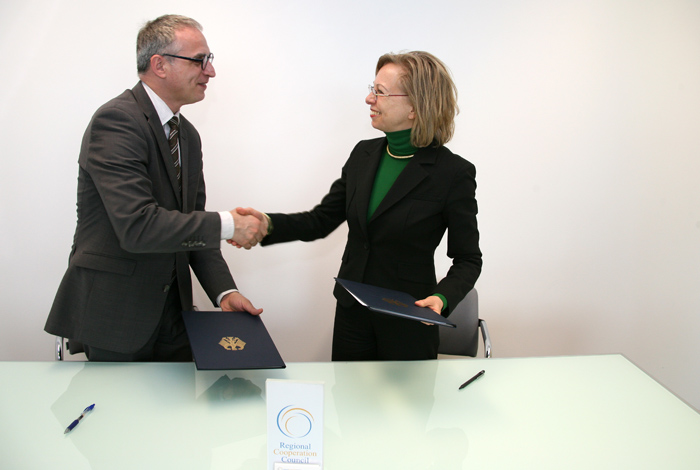 A 50,000 euro grant agreement supporting activities of the Regional Cooperation Council (RCC) Secretariat in 2013 was signed by Goran Svilanovic, RCC Secretary General, and Ulrike Knotz, German Ambassador to Bosnia and Herzegovina, in Sarajevo today.
The contribution of the Federal Republic of Germany will be used to increase awareness about the RCC Secretariat's work, primarily through organization of public events, such as the one marking the RCC anniversary, as well as production of the RCC Annual Report and a bi-monthly electronic newsletter.
"Germany's support is instrumental for a successful fulfillment of the RCC mission of promoting mutual cooperation and European and Euro-Atlantic integration of South East Europe in order to inspire development in the region to the benefit of its people", said Secretary General Svilanovic.
"We are especially proud to have ensured all-inclusiveness in our work, as a basic precondition for economic growth and overall progress in our region."
Commending the work done so far by the RCC Secretariat, Ambassador Knotz pointed out that good communication is crucial for establishing understanding and awareness of what the RCC does.
"Germany is happy to have been supporting the RCC for the past five years, as well as its predecessor, the Stability Pact for South Eastern Europe. The fact that regional cooperation has improved significantly over the recent years is also an RCC achievement."
The two officials expressed belief that the latest encouraging developments in the region, such as the last week's agreement between Belgrade and Pristina, would provide conditions to bring regional cooperation in South East Europe to an even higher level in the future.