RCC, GIZ agree to cooperate on foreign trade promotion, energy efficiency, legal reform and modernisation of municipal services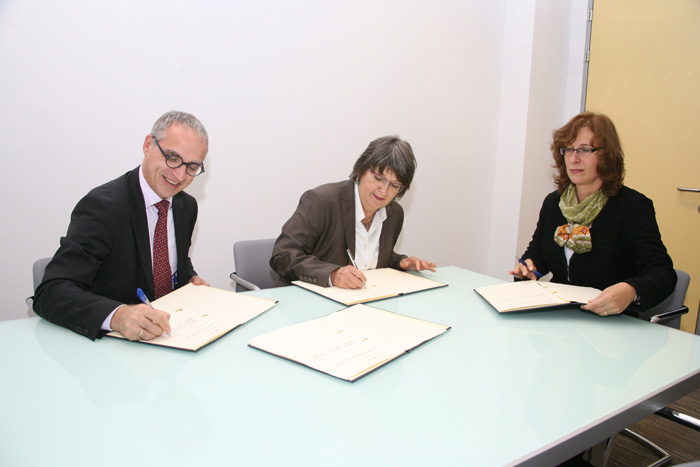 The Regional Cooperation Council (RCC) Secretariat and the German Organization Deutsche Gesellschaft für Internationale Zusammenarbeit (GIZ) signed in Sarajevo today a Memorandum of Understanding on cooperation in foreign trade promotion, energy efficiency, legal reform and modernisation of municipal services. The agreement foresees cooperation between the RCC Secretariat and GIZ until 31 March 2016.
"The focus will be on activities set within the RCC Strategy and Work Programme 2014-2016, with the South East Europe (SEE) 2020 strategy as its central pillar," said Goran Svilanovic, RCC Secretary General.
"This memorandum will enhance cooperation between our two organisations, as both the RCC and the GIZ support countries of the region in their efforts to join the EU."
"GIZ has been implementing the project Open Regional Funds for Southeast Europe (ORF) in the fields of legal reform, energy efficiency, foreign trade promotion and modernisation of municipal services on behalf of the German Federal Ministry of Economic Cooperation and Development," said Dr. Brigitte Heuel-Rolf, GIZ Regional Director for Western Balkans.
More concretely, cooperation in the field of foreign trade promotion will comprise support to implementation of the CEFTA Agreement, assistance to market surveillance institutions and regional business association networks in SEE.
In energy efficiency, the focus will be on strengthening the network of political studies schools, as intermediaries for public policy dialogue on climate change and sustainable use of energy; regional exchange towards establishing energy efficiency monitoring platforms, in the context of the work programme of the Energy Community; and funding of small-scale projects.
Legal reform cooperation foresees support to the establishment of a regional judiciary policy network, digitalisation of notary services, capacity building of the SEE law school network, and gender streamlining of the regional network of arbitration and mediation centres.
Modernization of municipal services aims at equipping relevant staff with tools and competencies necessary for providing those services to the public.
"Cooperation with the RCC has already shown good results through the establishment of the monitoring mechanism for the justice and home affairs strategy for South East Europe. In addition, we are currently discussing alignment of ORF projects with implementation of the RCC's SEE 2020 strategy," said Alexandra Hilbig, GIZ Manager for Open Regional Funds.